Automate inspection

across industries
Improve industrial operations with the safety, reliability, accuracy,
and endurance of ANYmal









Oil & Gas
Optimize offshore and onshore operations with automated inspections. ANYmal X helps operators increase worker safety and maximize plant uptime in Ex-rated areas in complex operations.
Offshore facilities, including platforms & FPSOs

Onshore facilities, including extraction & processing

ATEX zones in mature, greenfield & brownfield facilities
Increase asset uptime by detecting equipment failures early

Improve safety by reducing worker exposure to hazardous atmospheres

Reduce inspection and transportation costs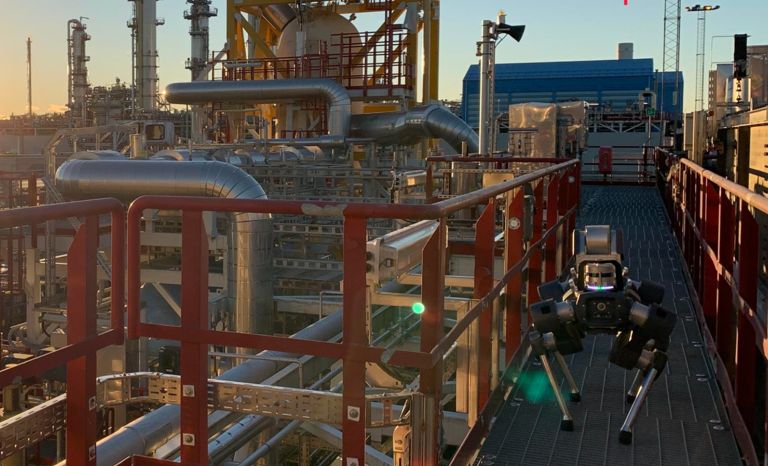 Automating robotic inspection for the oil & gas industry
Key challenges facing the Oil & Gas industry are lifting costs, asset lifetime, and net-zero targets. ANYmal X is the only legged robot that supports these strategic industry objectives by enabling automated inspections in ATEX/IECEx zones.
Learn More
Chemicals
Mitigate labor shortages and increase worker safety in complex chemical plants with automated robotic inspections. ANYmal helps operators optimize efficiency, maximize asset performance, and reduce environmental impact.
Specialty chemicals

Commodity chemicals

Mature, greenfield & brownfield facilities
Improve predictive maintenance and infrastructure health

Detect anomalies early through frequent monitoring

Minimize dull, dirty, and dangerous operator tasks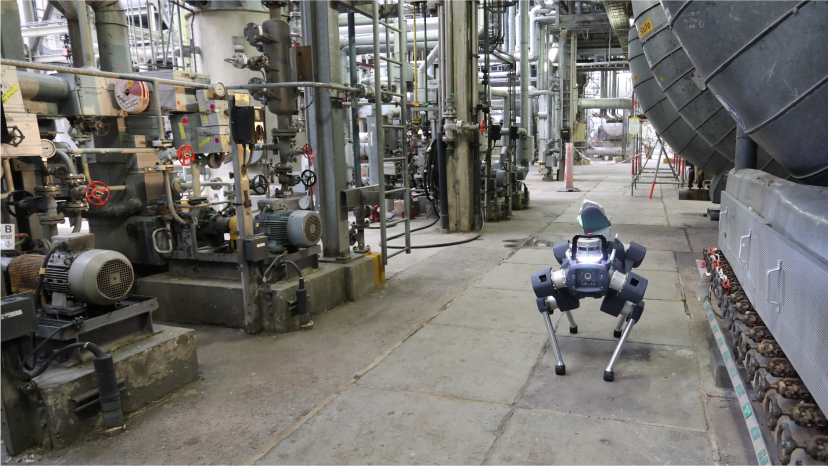 Robotic inspections for chemical industries
The chemical industry faces challenges such as high energy costs, asset longevity, and maintenance optimization. ANYmal helps by improving efficiency, automating inspections, and increasing OEE in ATEX and non-ATEX zones, making it well-suited for this sector.
Learn more
Power & Utilities
Reliable and safe energy supply through automated robotic inspection at thermal, nuclear, onshore, solar, and utility plants. ANYmal assists operators in optimizing energy production and distribution through increased plant availability and reduced operating costs.
Thermal and nuclear power

Offshore wind and solar power

AIS, GIS, HVDC, water treatment & desalination
Increase worker safety through autonomous inspection

Inspect during operation & reduce shutdowns

Early detection through real-time data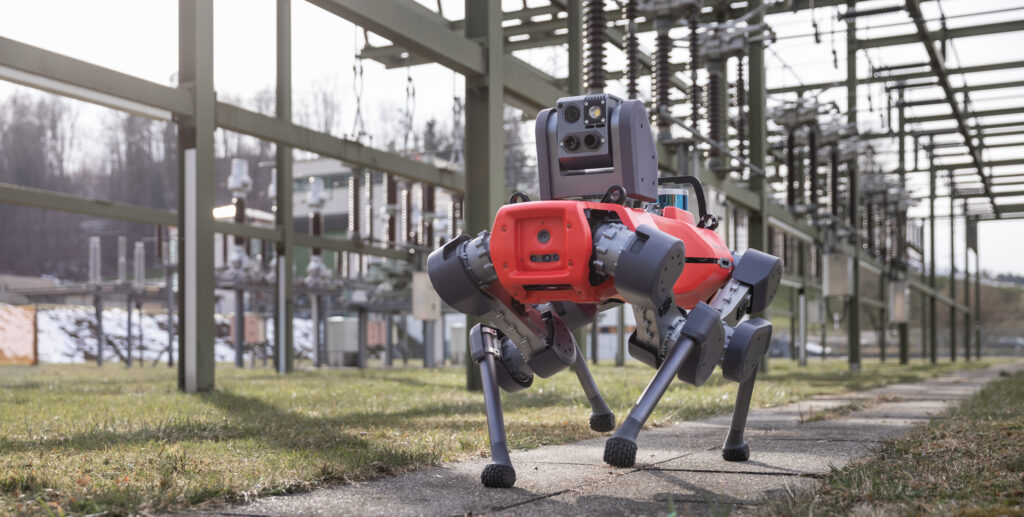 AUTOMATED ROBOTICS INSPECTION IN POWER & UTILITIES
Autonomous robotic inspection solutions for energy production and distribution that optimize energy supply. ANYmal provides accurate, reliable and safe maintenance support at informed thermal, nuclear, offshore, onshore, solar and utility plants.
Learn More
Mining, Metals & Minerals
ANYmal improves safety, automates data collection for better awareness, and increases operational efficiency at extraction and processing facilities. ANYmal enhances safety, improves sustainability, and optimizes extraction and processing facilities.
Open pit and underground mines

Metal production facilities

Mineral processing facilities
Minimize human exposure to health and safety dangers

Detect anomalies early and improve predictive maintenance

Maximize asset performance through better insights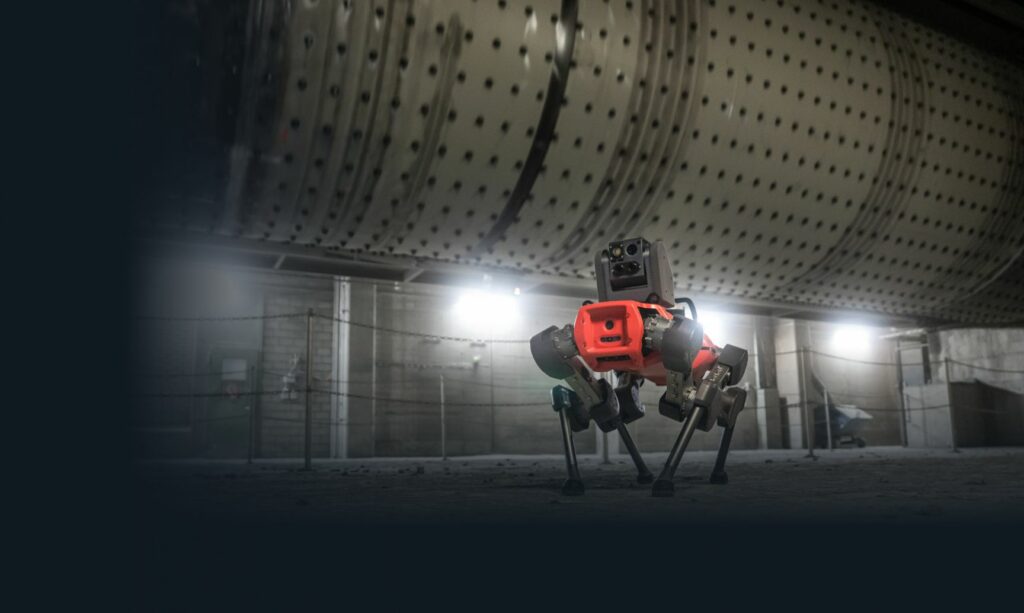 Robotic inspecton for mining, metals and minerals
By performing inspections day and night, even in challenging environments, ANYmal is the answer to the metal and mining industry's constant research to enhance working conditions, sustainability, and safety.
Learn More
Transport
Safe railroad operation demands regular precise inspections at low and high elevations, often during off-hours. ANYmal conducts hundreds of inspections every day in autonomous missions at various positions in complex structures, even in complete darkness.
Rolling stock inside and outside depots

Rail depots and infrastructure

Railway tracks
Maximize maintenance efficiency, reducing errors and reworks

Improve conditions for human operators, allowing workers to focus on more high-level tasks

Decrease components consumption by higher quality visual data and predictive analysis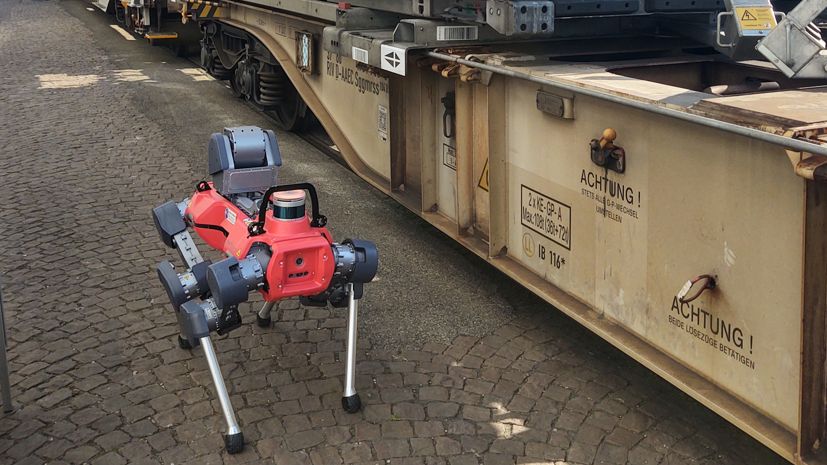 ANYbotics and Stadler Service AG Explore the Future of Train Maintenance
ANYbotics is partnering with Stadler Service to explore the potential of mobile robots to increase the efficiency and quality of routine inspection and maintenance of rolling stock.
Read the case studies
Research
Enhance your robotics research with ANYmal, a robust industrial-grade four-legged platform. Gain deep access to custom hardware and software integration while collaborating with top universities like Oxford, Michigan, and ETH Zurich for world-leading research.
Motion control, navigation, perception & state estimation

RGBD and Lidar-based mapping and localization

Human-robot and robot-robot interaction

Mobile manipulation
Modularized full access from low-level joint control to high-level commands

Ruggedized and commercial platform for outdoor field research

Parallelize research through full-stack simulation software

Built on open-source ROS for a quick start and compatibility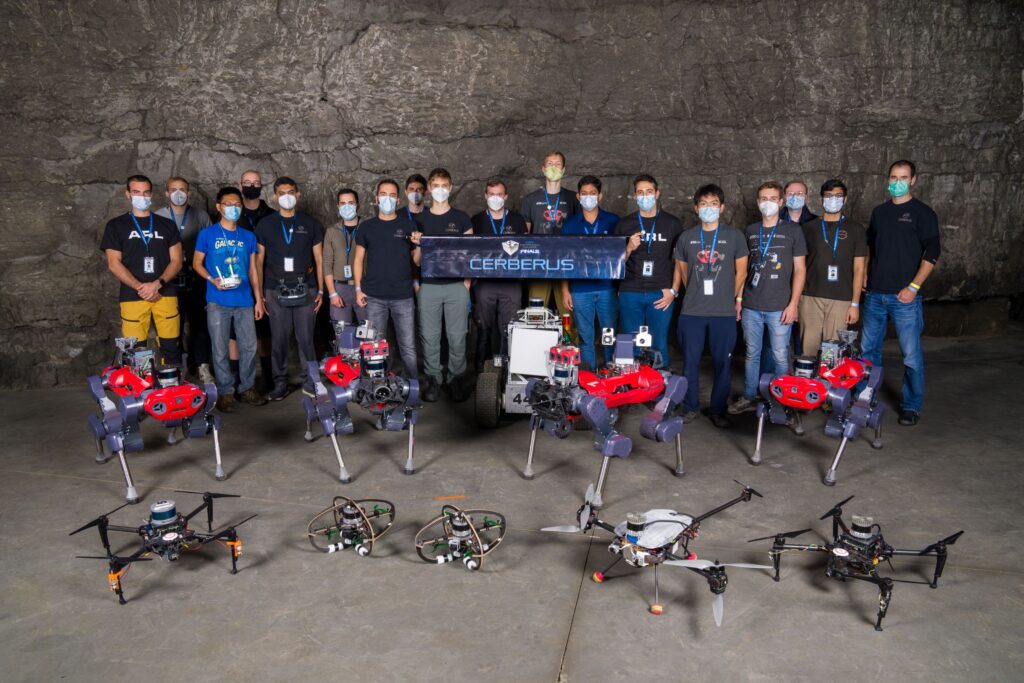 Winner of the World's Hardest Robotics Challenge Builds on ANYmal
The DARPA SubT challenge has set out to revolutionize the operation of autonomous robots in underground domains like tunnels, mines, and sewers. The winning team CERBERUS has built on a team of multiple ANYmals to set them apart from the competition in tackling the harsh underground environments.
Read the case study