Robotic Inspection for
Mining, Metals & Minerals
Increase safety at extraction and processing facilities
with automated inspections.
Transforming Mining, Metals & Minerals Operations
The mining and metals industry constantly strives to improve working conditions.
ANYmal improves safety, automates data collection for better awareness, and increases operational efficiency. It performs inspections day and night, even in challenging environments, making it ideal for the mining and metals industries.
Metals and Minerals
ANYmal improves the sustainability of metals and minerals operations through automated inspections that are independent of external factors and increase the lifetime value of assets.
Corrosive, gaseous, and high-temperature environments
ATEX zones, material accumulations, and restricted areas
Piping, hydraulics, instrumentation, actuators, and bearings
Mining
ANYmal enhances mining safety by minimizing human risk, ensuring continuous monitoring, and autonomously providing accurate data for preventive measures during operations.
Safe and reliable inspections of structures and hazardous areas
Early intervention and emergency response alerts
Material handling, crushing and screening, processing and beneficiation

Outokumpu and ANYbotics Sign Deal to Improve Safety and Sustainability in the Steel Industry
Together with ANYmal, Outokumpu continues to drive society forward by setting new standards for sustainable stainless steel in Finland, Germany, and Sweden.

ANYmal Helps Vale to
Prioritize People in Mining
In a partnership with ANYbotics, Vale highlights its commitment to becoming one of the safest and most reliable mining companies in the world.
Minimize dull, dirty, dangerous
and distant work
With its industry-grade ruggedness, ANYmal is fit for tough workplaces and can take over routine inspections on your facility from day one.
Automated routine inspection
Monitor asset in operations, identify thermal anomalies, detect gas presences, and create 3D reality capture.
Mobile, autonomous and integrated
An end-to-end inspection solution for complex facilities, that integrates with your operation.
Works on wet and bumpy terrain
Four-legged locomotion, based on reinforcement learning, enables robust maneuvering in challenging environments.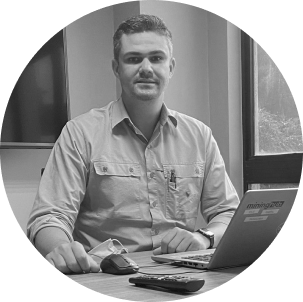 Our ANYmal can verify several asset conditions in addition to a circuit of critical spaces, stairs, and complex equipment—all autonomously, and always with the aim of integrating people, technologies, and processes that prioritize safety.