ANYmal inspection

solution capabilities
Safety, mobility and autonomy make ANYmal the world's most capable
end-to-end robotic inspection solution
Extreme mobility
in complex environments
ANYmal's four-legged locomotion, based on reinforcement learning enables robust manoeuvring in multi-floor industrial facilities.
Safe on open grated stairs
In and out of cramped spaces
Works on wet and bumpy terrain
Designed for safe
operation
ANYmal's safety features guarantee intuitive robot handing and safe autonomous operation.
CE compliance and FCC, IECEx & ATEX certifications
360° vision, near-field perception, and obstacle avoidance ensure safety distance
Multiple levels of accessible, emergency-stop functionality
Comprehensive online and on-site safety training
Intuitive Workforce UI with safety-centric UX
Autonomously finds the
optimal route
ANYmal performs its defined inspection missions without human intervention or an internet connection.
Complete autonomy in complex, multi-level environments
Facility-wide path optimization and fastest route determination
Precise self-localization and alternative route planning
Continuous data acquisition independent of stable network connections
Automatic docking for recharging, multiple missions, and extended range
Navigating large facilities
ANYmal uses Pharos, ANYbotics' 3D software for simultaneous localization and mapping (SLAM), to navigate complex industrial facilities.
Centimeter-accurate mapping through sensor fusion of lidar and depth cameras
Area-wide mapping with a range of 4 km in a single pass
Continuous operation with no need for navigation markers, QR codes, or GPS
Intelligent data gathering
on the edge
ANYmal collects accurate, high-quality data from hundreds of inspection points per mission.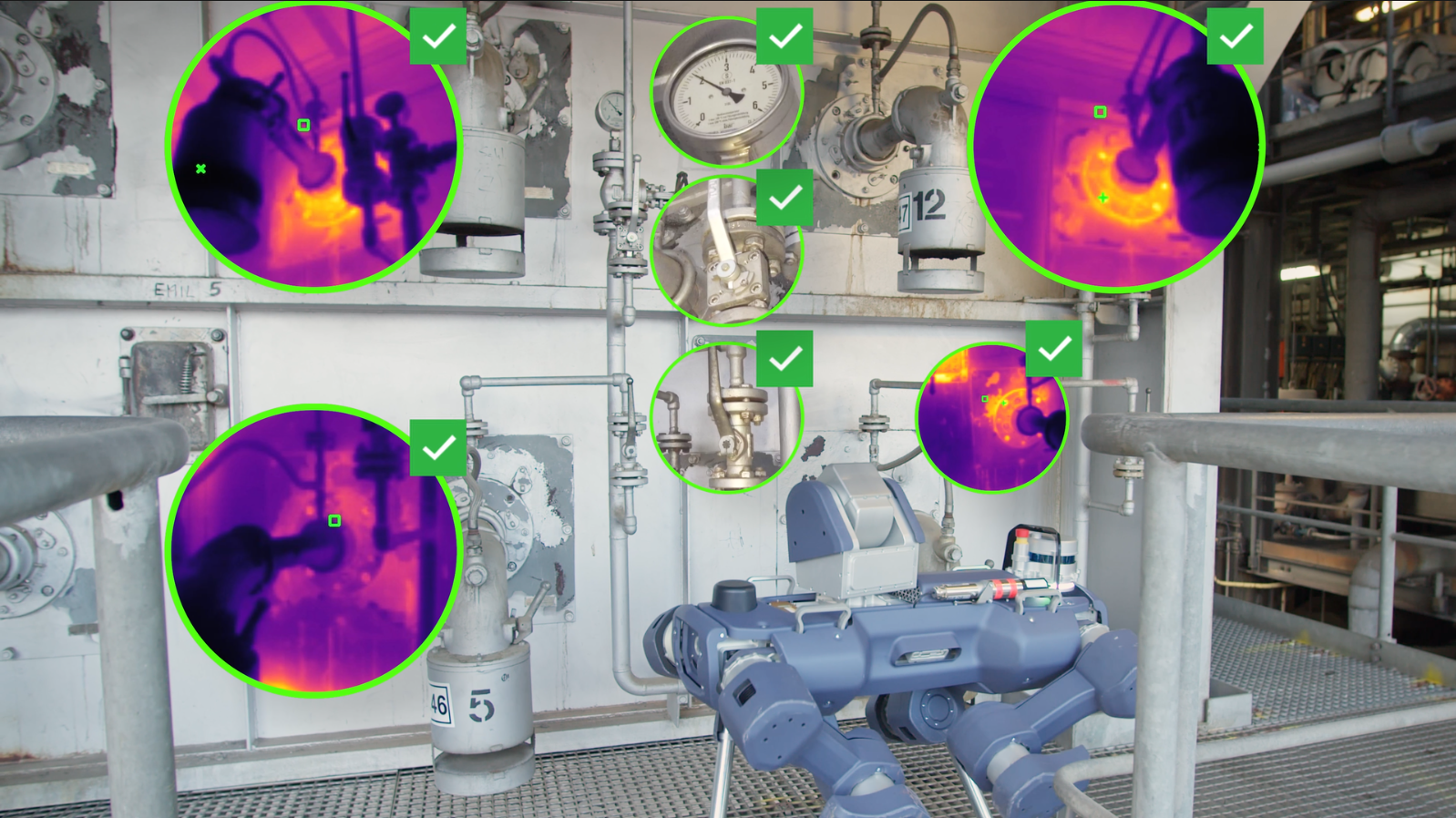 Accurate data capture through high-end sensors, ready-to-go and extendable payloads
Edge computing allows intelligent inspection at highest data quality and instant interpretation
Precise contextualization of inspection time, location, and viewpoint data
Continuous monitoring of equipment states and anomaly detection
On-board computer power for localization and Ai-based interpretation without internet connection
User-friendly
robot control
The ANYmal Workforce is the robot control UI that allows non-experts to access the technology and enables scaling
ANYbotics Workforce - UI for intuitive single-operator robot control
Set up, verify missions, and deploy ANYmal in a few hours
Ruggedized tablet in standard or Ex-proof version
Runs on any device
Instant data access and seamless integration
ANYmal autonomously collects health and anomaly data on the edge, encrypts it and transfers it via the ANYmal API
ANYmals AT WORK
Inspection and asset health data on the edge
ADS AND API
ANYmal Data Server (ADS) connects via API to ANYmal and any linked service
DATA & ANOMALY REPORT
Direct insights for instant decision-making
ASSET MANAGEMENT
Integrate robotic inspection in the existing CMMS
DIGITAL TWIN
Integrate inspection data and operate the robot
ANYMAL UI
Operate through ANYmal's native interface