BASF collaborates with ANYbotics to evaluate the potential of automated condition monitoring and digital documentation of operational data at their facilities. ANYmal X demonstrates its capabilities for extending robotic inspection into Ex-environments (Zone 1) that haven't been accessible for this technology before.
BASF – A World-class Chemical Manufacturer
Established in 1865, BASF is a German-based multinational chemical company and one of the largest chemical producers in the world. With over 111,000 employees and 52 global and regional business units, the BASF Group services customers in nearly all sectors and almost every country in the world.
BASF continually invests in technology innovation to drive optimization and digitalization in their production plants.
ANYmal X Advances Automated Routine Inspection in Ex-zones
BASF recently tested ANYmal X at the Ludwigshafen site as part of their legged inspection robot evaluation program. This is one of the first ANYmal X deployments in the chemical industry and builds on previous ANYbotics – BASF collaboration.
ANYmal X is paving the way to automated routine inspection in Ex-rated areas where intrinsically safe, ATEX-certified equipment is required. As the world's only Ex-proof, legged robot, ANYmal X, is significantly extending the application areas of this technology.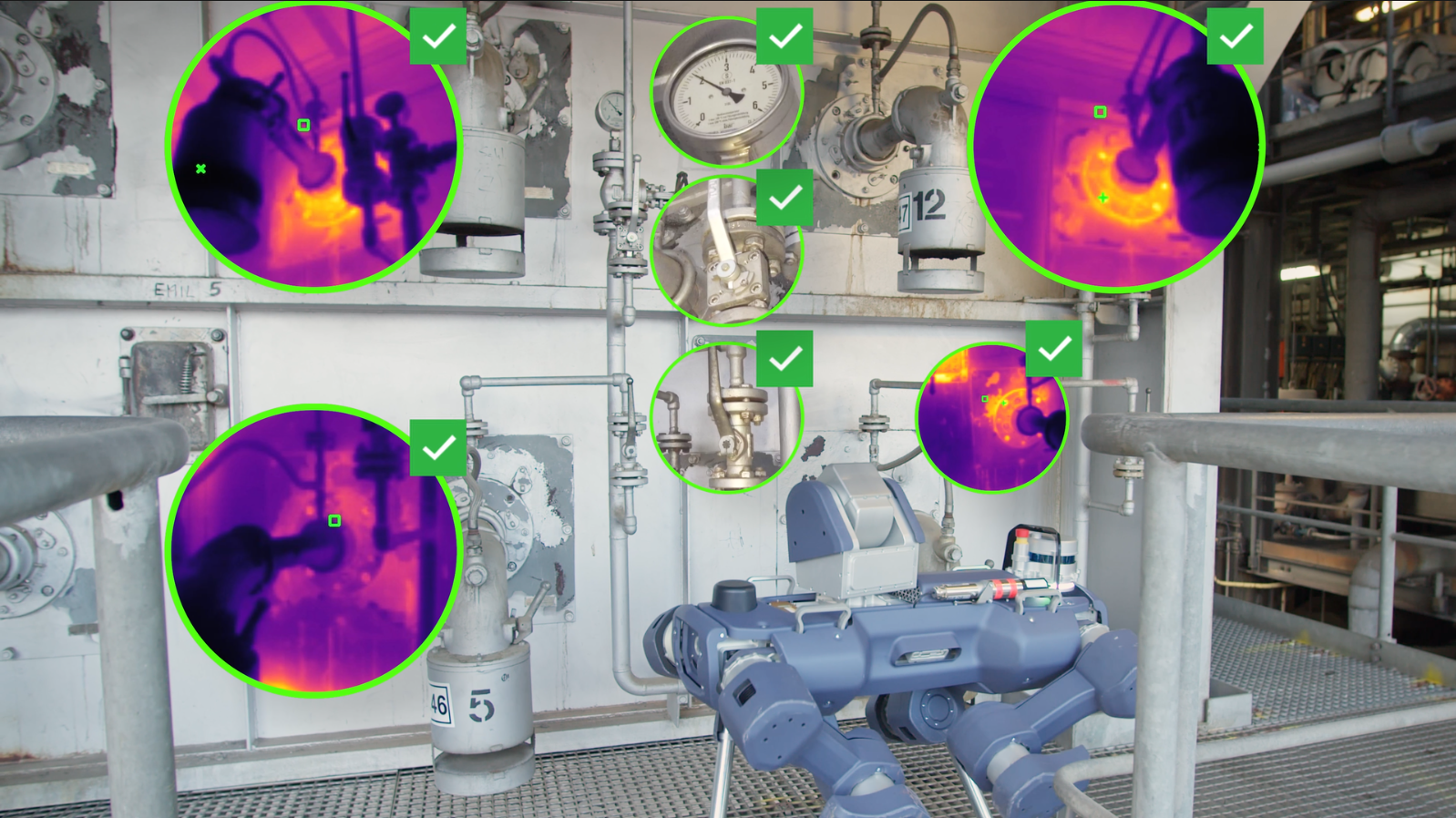 ANYmal X conducting automated visual and thermal inspections in Ludwigshafen.
Monitoring Ex-zone Assets to Detect Potential Irregularities
To  improve asset performance through equipment monitoring, ANYmal X autonomously collects trend and anomaly data throughout multi-level Ex-zones at both the Steamcracker and the Oxo Plant at the Ludwigshafen site.
ANYmal X conducts several inspection missions on multiple floors, with each 20-minute mission comprising 20 inspection points. ANYmal X visually inspects liquid levels, values displayed on gauges and positions of levers. Thermal inspections are conducted on the steel tanks and pumps. The functioning of the pumps is also monitored through frequency recording. At the naphtha processing furnace, ANYmal X inspects the walls and coating through thermal imaging to provide early indications of potential irregularities.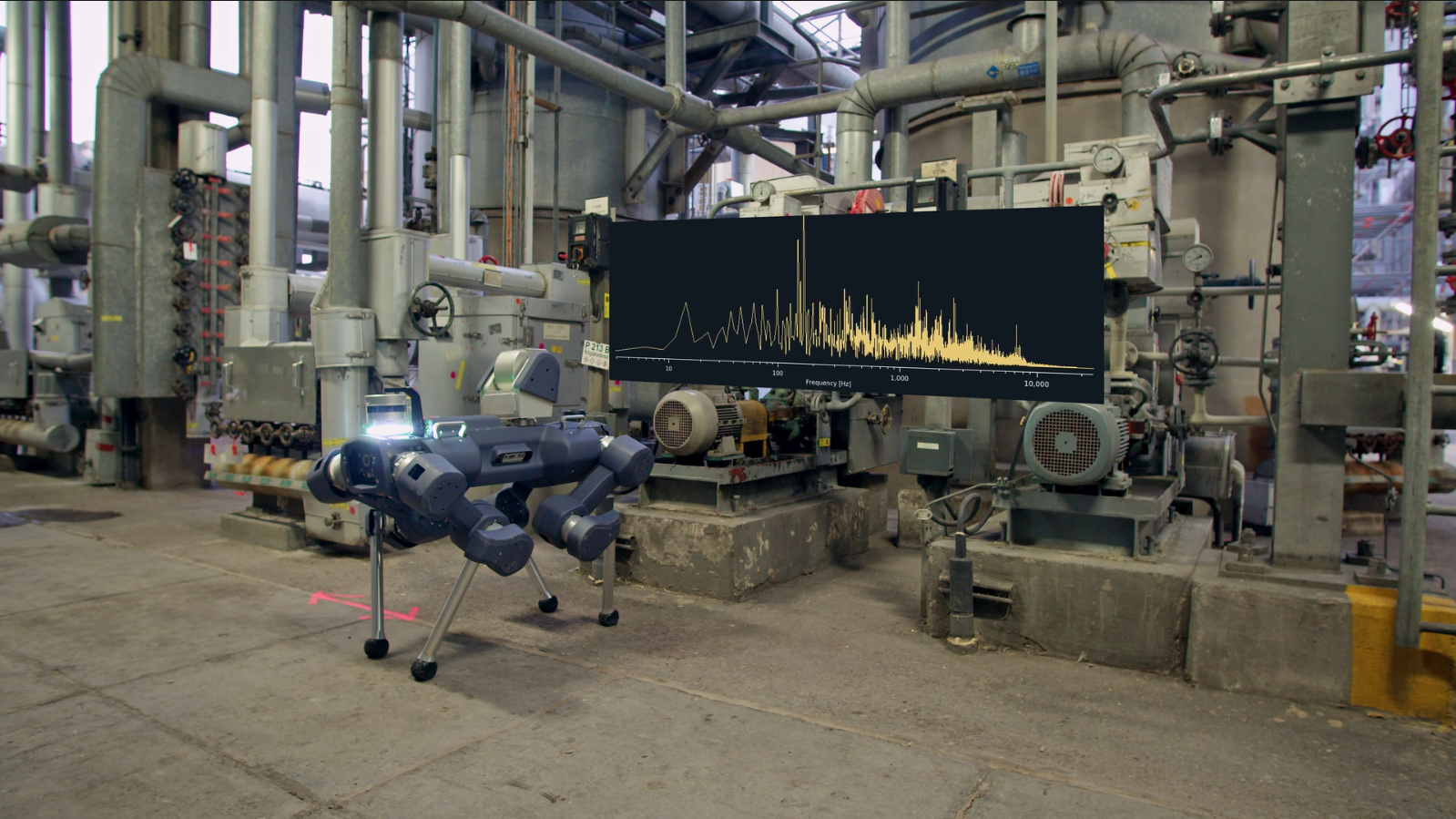 ANYmal X gathering asset performance data through equipment and instrument monitoring.
Supporting Preventive Maintenance in Ex-zones
In this deployment, BASF explored the capabilities of ANYmal X to extend automated condition monitoring into Zone 1 Ex-environments indoors and outdoors. Relevant facility data can be gathered via different sensors which is used to trigger preventive maintenance actions connected to the condition and alarm monitoring platform and overall contribute to the digitalization of plant operations. ANYbotics' innovative and flexible solution has the potential for future deployment in complex, chemical facilities. 
Learn More
Are you interested in exploring ANYmal's potential to transform your operations? ANYbotics provides pilot installations worldwide. For any questions or inquiries, please contact ANYbotics.
About ANYbotics
Since 2016, Swiss robotics company ANYbotics has developed innovative, intelligent, and integrated robotic solutions that improve workers' lives, increase productivity, and support more sustainable industrial facilities. Partnering with global technology leaders, ANYbotics provides large asset operators with autonomous, automated, end-to-end robotic inspection solutions for complex, hazardous, and explosive industrial environments. ANYbotics is a fast-growing company with over 100 employees focused on supporting the inspection needs of workers in oil & gas, power, energy, mining, processing, chemicals, transportation, and construction.