ANYbotics partnered with Continental to demonstrate robotic last-meter package delivery by combining a self-driving vehicle with the legged robot ANYmal.
The yearly Consumer Electronics Show (CES) in Las Vegas, NV, is the world's largest trade fair for business and consumer technologies. At CES 2019, the German automotive manufacturing company Continental demonstrated their vision for seamless mobility in goods delivery. Joining forces with ANYbotics, Continental showcased cascaded robot delivery by combing a self-driving shuttle with the autonomous legged robot ANYmal.
Due to the growth in global e-commerce and urbanization, the need for automated delivery is significantly increasing. Continental envisions a holistic delivery concept that improves availability, efficiency, and safety in the parcel delivery value chain. To solve the last-meter/last-yard delivery, a driverless vehicle, such as Continental's CUbE shuttle, carries multiple mobile robots to deploy packages all the way to the consumer.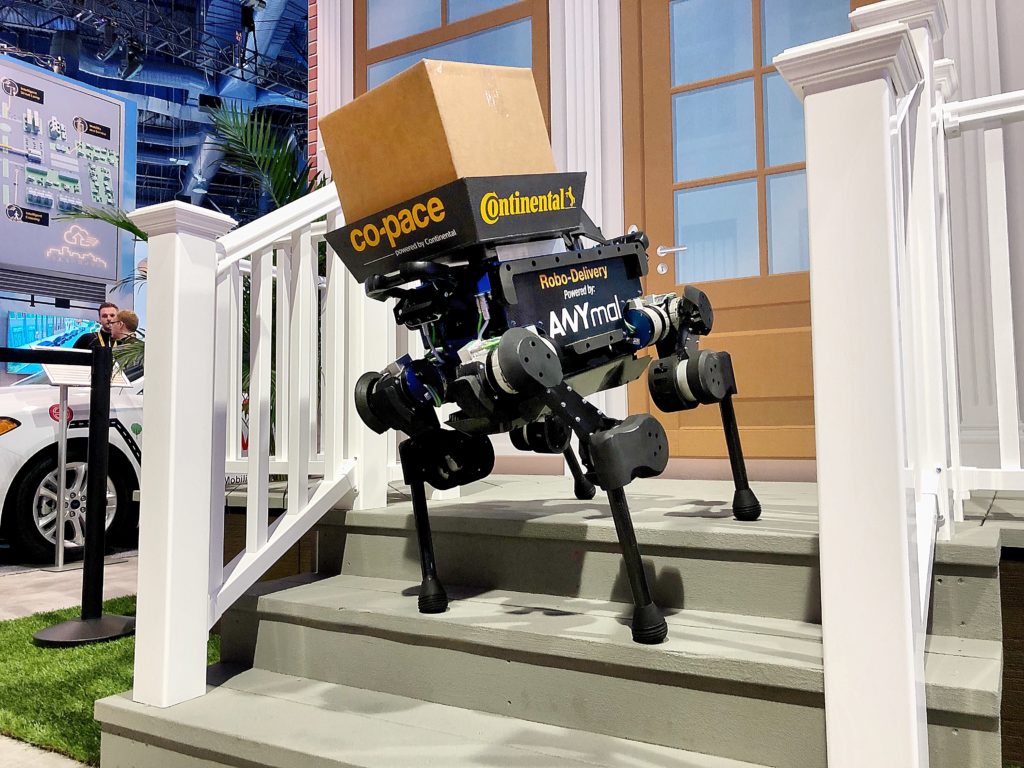 At CES, visitors could experience how ANYmal exits a driverless shuttle while safely carrying a parcel with a weight of up to 10 kg. Lidar and cameras allow the system to perceive the environment and climb over challenging terrains such as curbs, stairs, and other obstacles on the ground. Enabled by ANYmal's fully rotatable legs, the robot rings the doorbell with its foot and drops the package in front of the door, before returning to the self-driving shuttle to pick up the next parcel.