Plant operators often deploy inspection robots in environments challenging for human workers to access or deemed dangerous. However, integrating robots into daily operations presents complex challenges. ANYbotics and Germany-based Framence, a leading provider of photorealistic digital twins, teamed up to overcome these challenges at Entega's waste-to-energy plant in Darmstadt, Germany.
Entega – Pioneering Digitization in the Power Sector
Entega is pursuing a digitization strategy to provide its employees with practical digital solutions that enhance their work experience. ANYbotics and Framence partnered on the EU-funded T- IRIS (Twin-Integrated Robotic Inspection Solution) project to demonstrate ANYmal's simplified operability for trained and untrained operators through digital twins at Entega's power plant.  Their boiler house was selected as an ideal environment for deploying inspection robots due to its demanding nature, high temperatures, excessive noise, and physical strain that can significantly burden employees.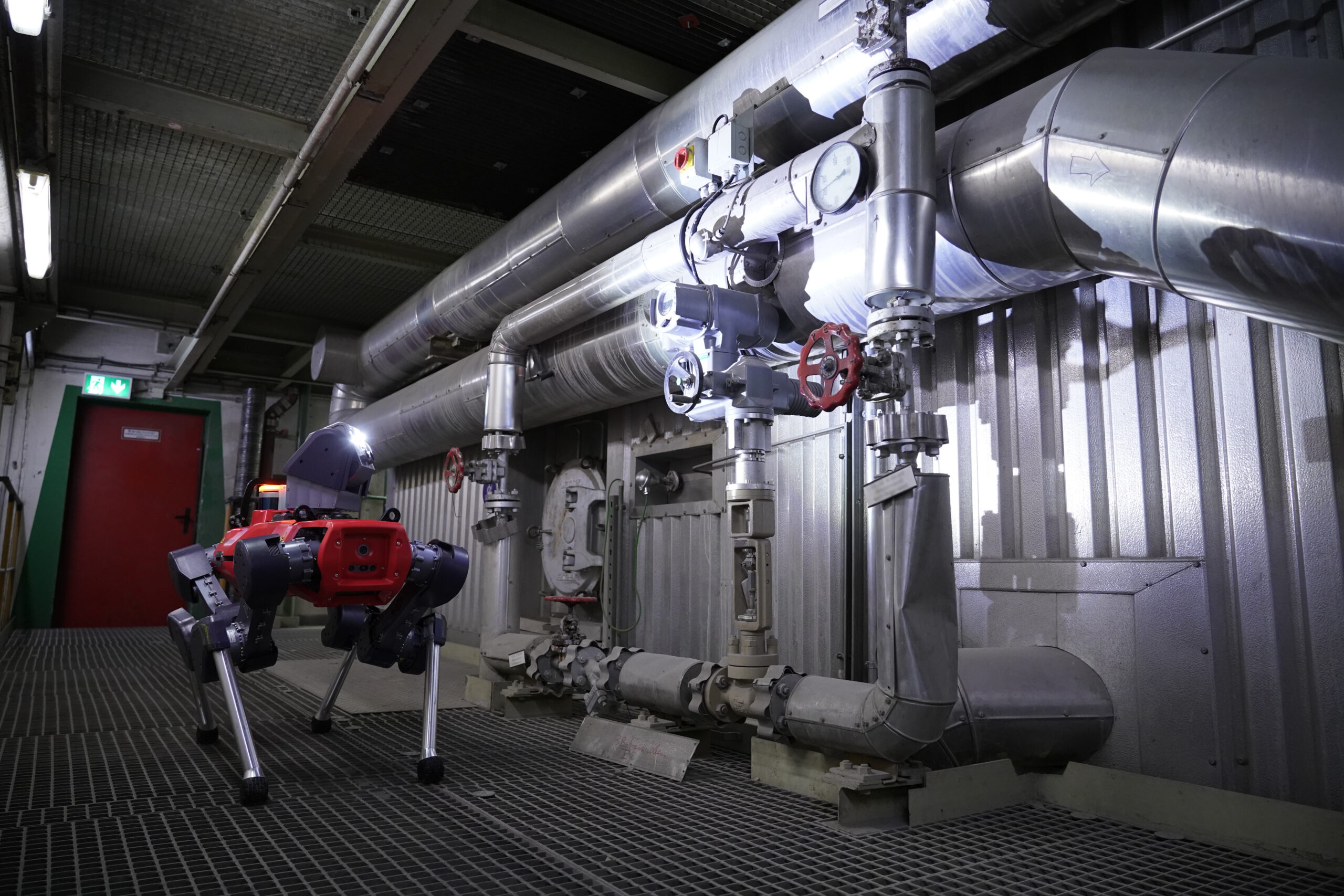 ANYmal conducting a photorealistic digital twin-managed inspection mission at Entega's waste incineration plant.
Performing Inspections Directly in a Photorealistic Digital Twin
Framence's digital twin realistically depicts the environment à la Street View. Simple digital camera photos create a true-to-scale, photorealistic digital twin. No reconstruction or redesign is required.
The digital twin enables integration and the accurate display of information from third-party systems such as dashboards, instructions, videos, and robot inspection data. Data is placed in the digital twin with unique 3D positions relative to objects and displayed using 'Points of Information' (PoIs). PoIs allow users to easily and quickly access, edit and save all data in the image model.
Using Framence's photorealistic digital twin as a user interface and data platform enables intuitive planning, ad hoc editing, and execution of inspection missions. While ANYmal conducted inspections in complex and difficult-to-access environments, the analysis of the results took place directly within a photorealistic environment.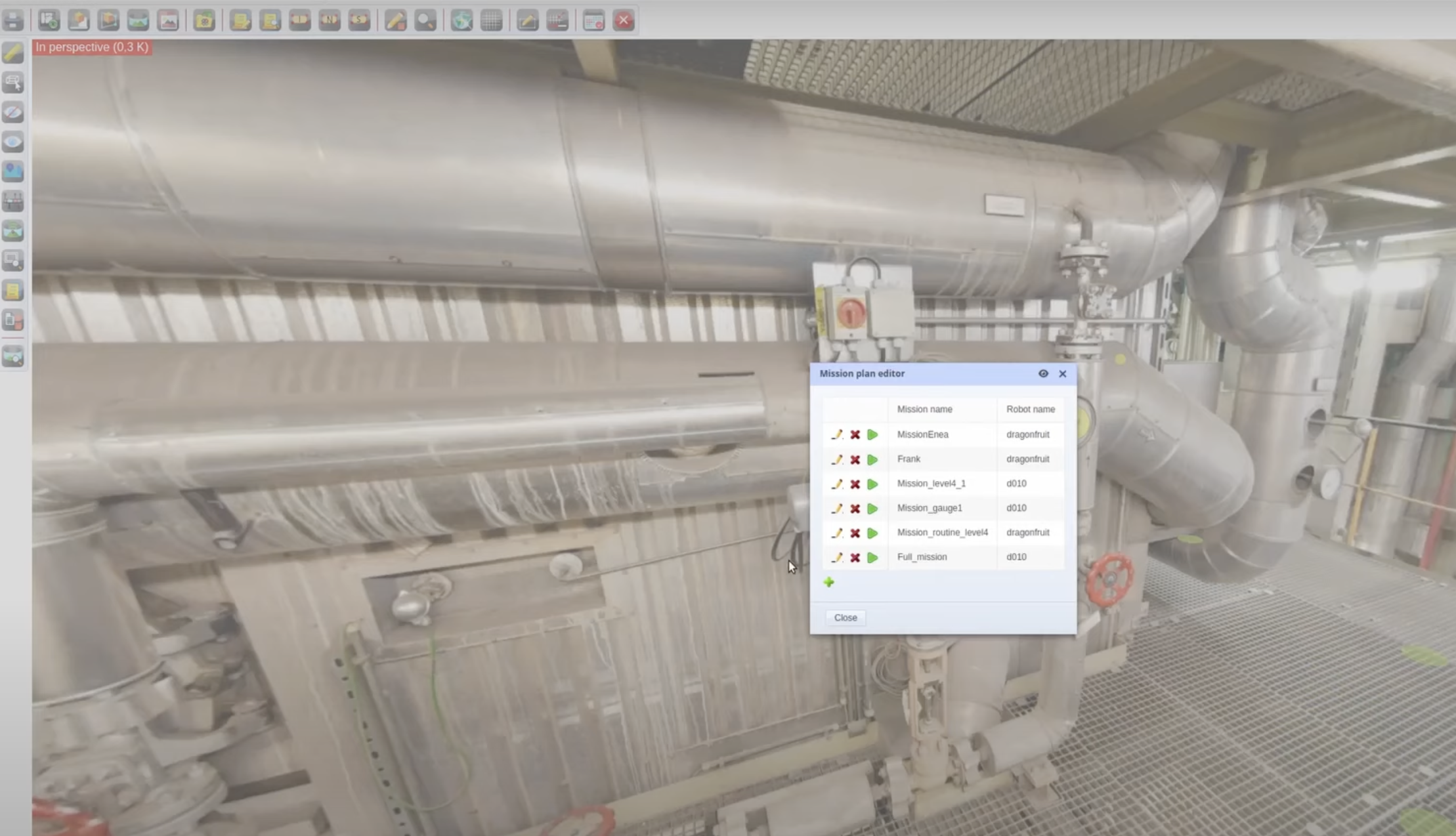 Framence's digital twin enables easy planning and editing of inspection missions.
Streamlined ANYmal Integration Enables User-Friendly Operation
Equipped with high-resolution sensors, ANYmal provides accurate data in real-time. The data is seamlessly integrated into Framence's photorealistic digital twin during an inspection via the ANYbotics API and analyzed.
Users also sent inspection commands directly to ANYmal from the photorealistic digital twin. Operators could conduct spontaneous inspections of individual assets remotely at any time with the click of a mouse. Rapid inspection of critical situations without endangering human lives, for example. Even complex missions with many individual inspection points were planned, stored, and executed by trained or untrained operators as needed within the photorealistic digital twin.
Despite having allocated an entire morning for commissioning, we were positively surprised to complete robot missions via the twin after only a few hours.
– Frank Rust, Project Manager, Framence.
Enabling Quicker Operator Intervention and Enhanced Safety
The synergy between ANYmal's advanced integration capabilities and Framence's photorealistic digital twin results in improved accuracy of inspection mission simulations, streamlined deployment processes, and enhanced automated asset monitoring. Leveraging the insights gained from this integration, operators in complex industrial environments can intervene more quickly and effectively, enhancing safety and productivity.
The article is an adaptation of the original version published by Entega AG (in German).
About Framence
Framence was founded in 2019 on the belief that photorealistic 3D digital twins can revolutionize building and facility operations. Framence has developed a breakthrough, AI-driven method that transforms simple photos into detailed twins to unlock this value in seconds. The digital twin can be opened in any browser, streamlining workflows within teams and external service providers. Framence is focused on delivering high ROI and maximizing investment and profits for its customers.
About ANYbotics
Since 2016, ANYbotics has developed innovative, intelligent, and integrated robotic solutions that improve workers' lives, increase productivity, and support more sustainable industrial facilities. Partnering with global technology leaders, ANYbotics provides large asset operators with autonomous, automated, end-to-end robotic inspection solutions for complex, hazardous, and explosive industrial environments. ANYbotics is a fast-growing company with over 100 employees focused on supporting the inspection needs of workers in oil & gas, power, energy, mining, processing, chemicals, transportation, and construction.
Are you interested in exploring ANYmal's potential to transform your operations? ANYbotics provides pilot installations worldwide. For any questions or inquiries, please contact us.