Construction sites are constantly changing environments with numerous obstacles and safety risks hidden in plain sight. Even after winning multiple Suva Prizes for safety, Losinger Marazzi does not rest on their laurels. Instead, the construction company continues to invest in innovative solutions to site safety issues. ANYbotics partnered with Losinger Marazzi to explore ANYmal's potential to patrol their sites to identify and report safety issues—some of which cannot be detected by human senses. With such a complex environment, only a robot designed to navigate difficult terrain is able to bring digitalization to such a physically demanding industry. The results tell an exciting story about the future of robotics and construction.
Jobsite Safety Demands Constant Attention
Construction is complicated, detail-oriented, and potentially hazardous work. Heavy machinery, sharp edges, dangerous heights, and scalding heat are just some of the common culprits of work-related risks on a job site. That said, some of the most common risks are the most avoidable. Studies show that one-in-four construction accidents are the result of a trip hazard. With such a high volume of simultaneous activity, permanent visibility of potential safety issues is paramount.
According to Shad Shaho, one of Losinger Marazzi's Project Managers, "site managers make daily inspection rounds to identify problems. It usually takes the site manager about an hour to do this. In addition, the safety officer spends half an afternoon on the construction site twice a week." While time-consuming, these inspections are necessary and, for Losinger Marazzi, a standard they continue to raise. Losinger Marazzi is a company that continually improves not just safety, but all of its processes to deliver better results for its clients and provide the best workplace for its employees. This commitment to continuous improvement inspired Losinger Marazzi to launch INNOBOX, their internal think tank. INNOBOX researches and implements emerging technology to innovate construction processes. While building the Hospital Limmattal, Losinger Marazzi partnered with ANYbotics to explore advanced machine learning into Losinger Marazzis's job site safety protocols. The ultimate goal of the partnership: Project Managers sleep better at night because they know safety is still a top priority, even when they're off the clock.
How to Improve Safety with Advanced Robotics
ANYmal is a quadrupedal robot designed for autonomous operation in challenging environments. Driven by four versatile legs, the robot platform is capable of dynamic running and climbing in difficult terrain. Because ANYmal is equipped with sensors such as thermal cameras and 3D scanners, it's able to reliably monitor the construction environment for safety issues. ANYmal can help Project Managers make routine inspections and report problems like trip hazards. With its advanced capabilities, the robot can also monitor and report elements that can't be detected by human senses.
Here's how it works: first, the ANYbotics team programs ANYmal using a method called "show and go," during which the team leads the robot through an inspection route with specific key points. With its superior four-legged mobility, ANYmal has no problem traversing the many obstacles of an industrial topography. Once completed, ANYmal can repeat the process autonomously and develop real-time inspection reports.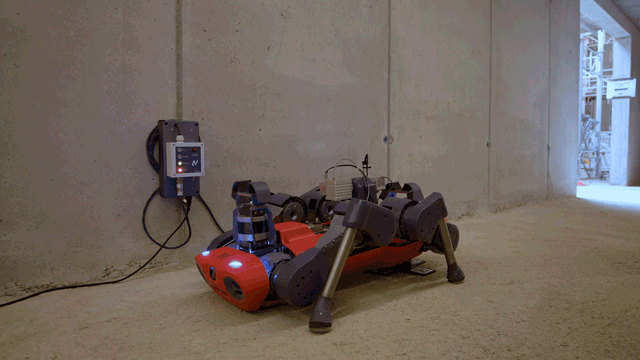 ANYmal rises from its charging station in the basement of the Hospital Limmattal and begins its nightly inspection.
ANYmal's ability to operate during downtime is a significant value-add for Losinger Marazzi. The robot begins monitoring the site once the day's shift has ended. Using its 3D depth cameras, the ANYmal goes to work monitoring the site for objects obstructing designated pathways, unmarked barriers, and potential falls. Even if these pathways change, which on a construction site is a daily occurrence, the robot's autonomous navigation and obstacle avoidance capabilities allow ANYmal to adjust its path. ANYmal's reporting protocols include precise positions so that construction workers can remove these hazards before they cause harm.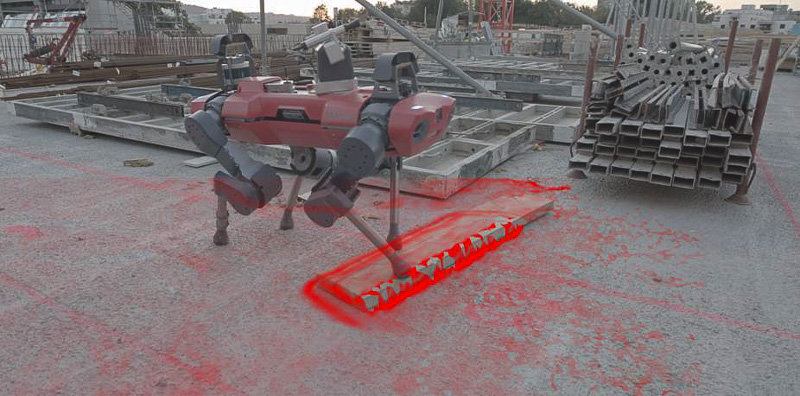 ANYmal's LIDAR and depth sensors detect trip hazards in designated walkways
Furthermore, ANYmal is intended to check key installation points to monitor for environmental changes. For example, if an electrical box is beginning to overheat or water enters the building, ANYmal can pick up the audio waves, detect motion, and identify hotspots through thermal imaging. ANYmal's capabilities enable construction managers to identify and eliminate potential dangers before they become threats.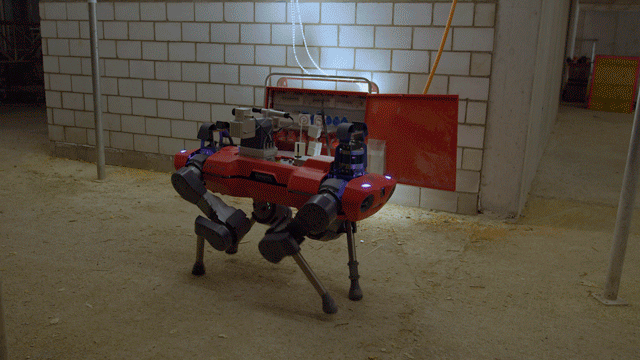 ANYmal collects thermal images of key installation points to check that they are working correctly.
"Even if safety is our priority," says Stéphane Bezille, a General Project Manager of Losinger Marazzi, "the limits are always time, resources, and ability. We cannot be omniscient. With ANYmal, there are no time constraints. The robot's intervention makes it possible to directly detect the risky situation without having to wait four, six, or eight hours to have someone there to see for themselves after the damage has already occurred or gotten worse."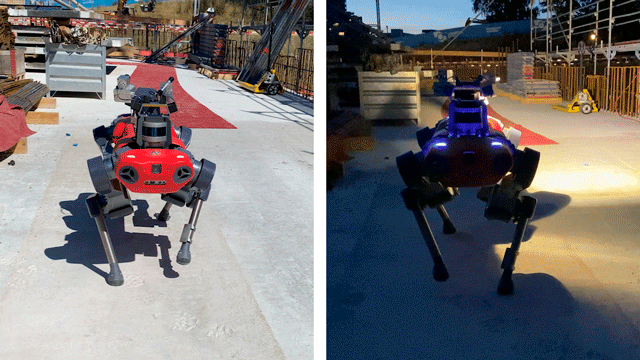 With its high-powered spotlight, ANYmal can perform inspection routines day or night.
Mapping the Future of Construction
Losinger Marazzi is excited about the possibility of expanding ANYmal's application beyond safety. With its cameras and LIDAR sensors creating 3D maps, the ANYmal can help provide clients and stakeholders greater transparency into the process through continuously updated building progress protocols. Additionally, the robot's scanning capabilities enable Losinger Marazzi to compare their BIM models with reality. The real-time flow of visual data allows them to travel back in time and check below-surface details to ensure proper infrastructure and installation.
ANYbotics' collaboration with Losinger Marazzi has only just begun. ANYmal will return to the Hospital Limmattal site early next year to investigate further use-cases that drive increased safety, process improvement, and efficiency as the building matures.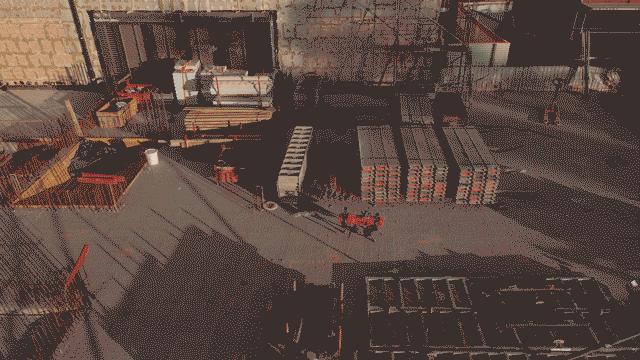 With its LIDAR, ANYmal continuously collects data and builds point cloud maps.
Are you interested in exploring ANYmal's potential to transform your business or operations? ANYbotics provides proof-of-concept and pilot installations worldwide. For any questions or inquiries, please contact ANYbotics.