PETRONAS, the global energy and solutions company from Malaysia, is testing ANYmal for autonomous robotic inspection on its oil & gas platforms. They recently conducted a successful multi-week installation with the robot ANYmal C on one of their offshore facilities. For commercial use in 2022, ANYbotics and PETRONAS are co-developing a specialized version of ANYmal for potentially explosive environments.
For the 2020 SPRINT Robotics Global IMC Week, ANYbotics and PETRONAS presented the first results of their collaboration in the Action Group Remote Operator session.
PETRONAS relies on robotics to enable unmanned industrial inspections in its production operations. Its long-term partnership with ANYbotics focuses on bringing robotic routine inspection to offshore and onshore facilities targeting the commercial use of the ANYmal robot in potentially explosive environments by 2022.
Explosion-Proof ANYmal
Oil & gas facilities are classified as environments with a high risk for explosions and require on-site equipment to be certified. To allow for the deployment on such plants, ANYbotics and PETRONAS are co-developing an Ex-certified version of ANYmal, designed according to the IECEx international standard and intended for deployment in Zone 1 areas. This Ex-certified robot is co-developed with PETRONAS, yet ANYbotics will offer it for the global market and has started onboarding early customers.
Reducing Risks and Cost Through Robotic Support
The complex operation of oil & gas facilities requires continuous monitoring and frequent inspections to enable high availability and safety. "Our motivation is to deploy robotic solutions to reduce HSE risks and OPEX by minimizing offshore workforce deployment and logistics," said Fauzy Omar Basheer Othman, Head of PETRONAS' Facilities of Future. The autonomous robot ANYmal provides automated routine inspections generating the insights to be able to adjust operations swiftly. "We intend to use ANYmal to improve our workflows with better data tagging and automatic reporting," added Fauzy.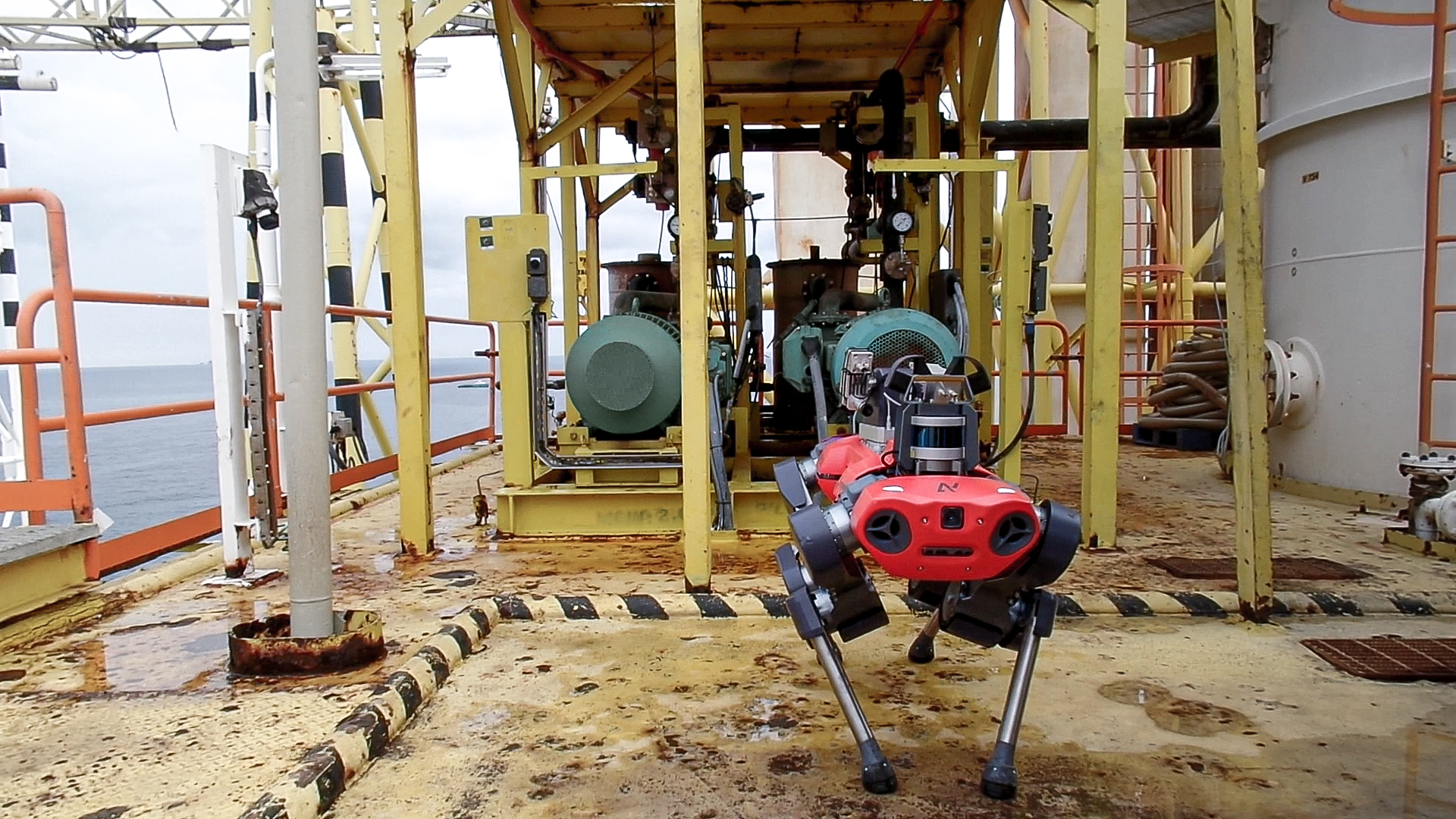 ANYmal carries high-end sensors to perform automatic routine inspections such as frequency analysis of rotating equipment.
Moving from Onshore to Offshore Tests
PETRONAS field-tested ANYmal C first on its onshore training platforms to evaluate the inspection capabilities. The inspection tasks include general visual inspection, digital readouts of analog and digital gauges, thermography, and acoustic analysis of rotating equipment. After the successful onshore functional tests, PETRONAS' robotics team performed a multi-week deployment on PETRONAS' offshore platform Dulang B. "The offshore tests validated ANYmal's performance under adverse conditions including slippery terrain, strong winds, and operations day and night," summarised Iskandar A. Mahmood, Manager for Robotics at PETRONAS. He added, "Offshore platforms have large open spaces towards the ocean that are challenging for autonomous navigation. However, the LIDAR-based localization of ANYmal has proven robust even in these cases, and we were able to successfully test all functionalities, including autonomous charging on a docking station."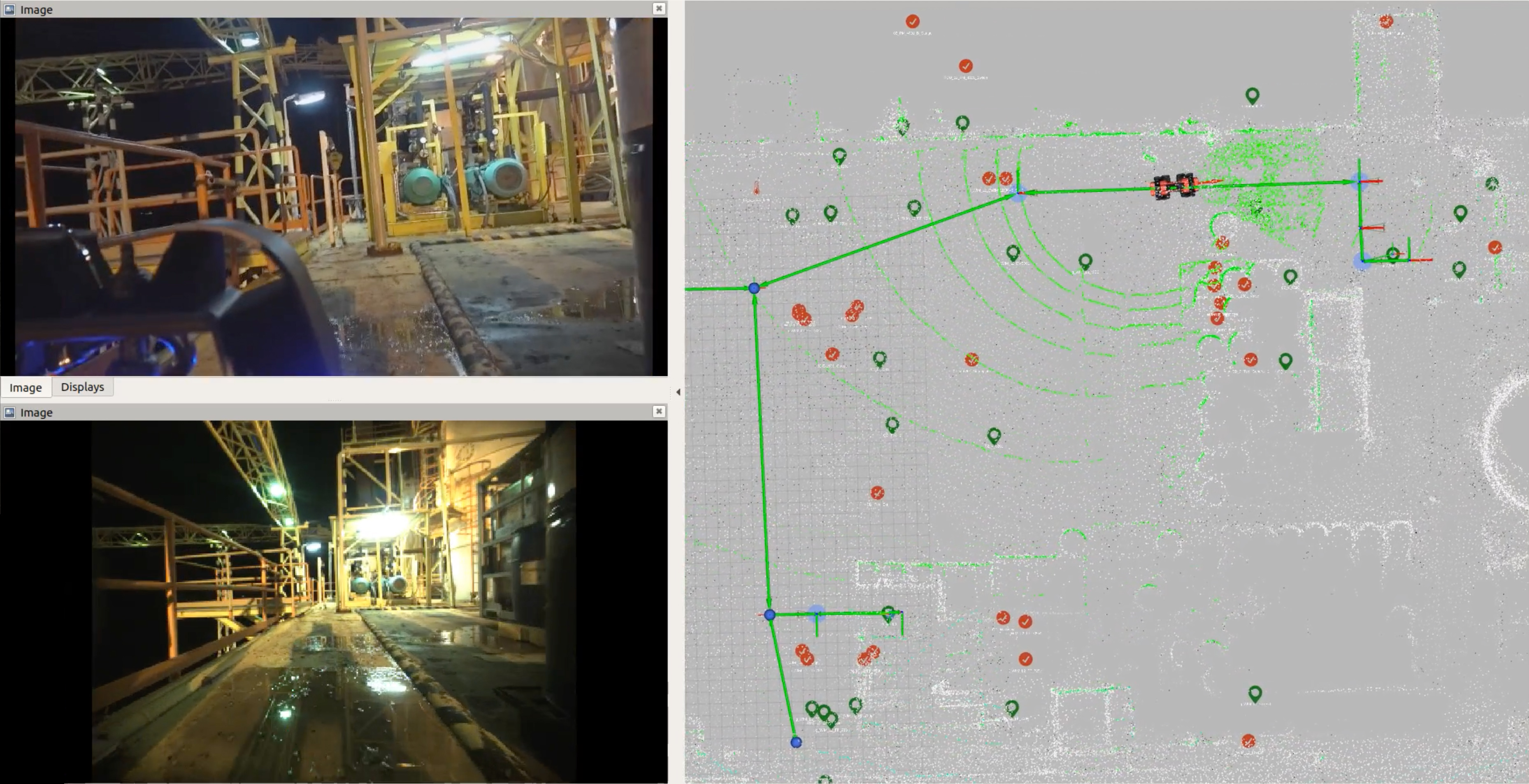 The operators access the robots through the user interface for autonomous mission setup, live progress monitoring, and situational awareness.
Legged Mobility Enabling Robotic Access on Industrial Sites
Oil & gas sites are demanding environments that include steep industrial stairs and are exposed to extreme weather conditions. Built on the mobility of four legs, the ANYmal robot has proven its capability to navigate these challenging terrains safely. "Our plants are built for humans and often provide only a little space for general passages. We have been testing ANYmal in various challenging situations and are impressed by its versatile mobility that doesn't require us to make any adaptations to our facility," said Iskandar. ANYmal's IP67 water and dust ingress protection also provide the required long-term reliability: "Minimizing the maintenance need of the equipment is important to reduce overhead. The industrial-grade design of ANYmal is key in these harsh environments exposed to salty air," added Iskandar.
Are you interested in exploring ANYmal's potential to transform your business or operations? ANYbotics provides proof-of-concept and pilot installations worldwide. For any questions or inquiries, please contact ANYbotics.