The value of a robotic inspection solution lies in how easily it can be deployed in the field and how relevant the data collected is. The October 2023 Product Update introduces enhanced mobility, improved navigation, greater operator control, better connectivity, and expanded video recording options.
Safe Mobility in Industrial Terrain with Enhanced Perception
ANYbotics has enhanced ANYmal's near-field perception, enabling more detailed and faster detection of terrain structures, various 3D layers, and moving obstacles. These capabilities are used to update locomotion models during training in simulation, which are applied to the physical robot. The result is highly accurate movements, precise foot placements, and better and safer mobility. Reliably negotiating grated, open-riser industrial stairs, for example.
Key Features
Enhanced 3D spatial mapping for faster recognition of static and dynamic obstacles
Safe mobility on challenging terrain, such as grated, open-riser stairs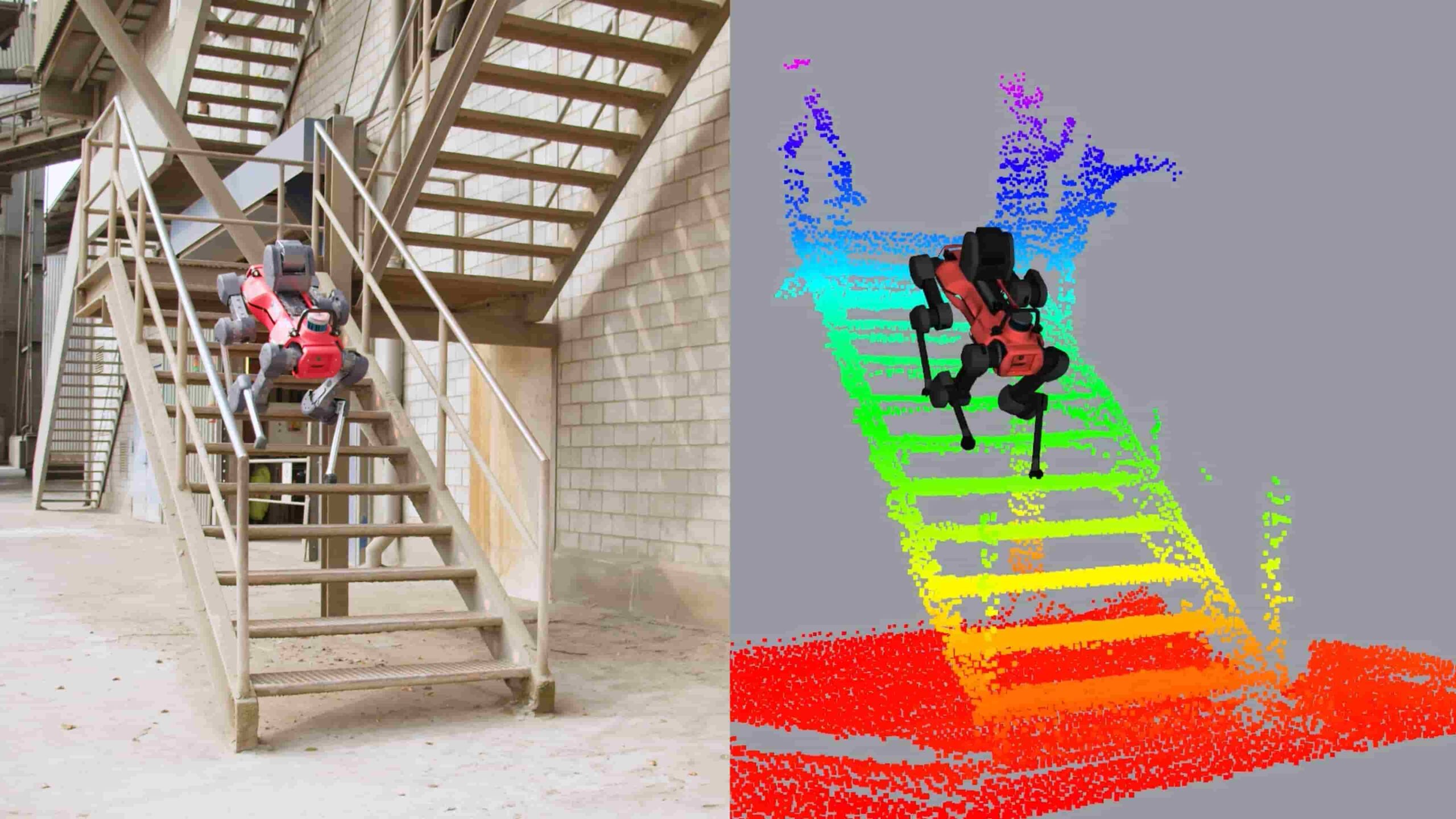 ANYmal's industrial-grade perception provides upgraded 3D spatial mapping.
Ensuring Efficient Mission Completion through Improved Navigation Capabilities
ANYmal can better locate inspection points without getting lost in featureless or expansive areas. With localizability awareness, ANYmal now recognizes disorientation risks and stabilizes its location to resolve its route. When recording large-scale maps, ANYmal's enhanced loop closure corrects route discrepancies and aligns the new map to produce a cleaner ground truth map, thus facilitating smoother and more efficient subsequent missions.
Key Features
Self-recovery by setting anchor points for route map clarification and optimization
Navigation of featureless environments such as tunnels, long hallways, or open spaces
More precise large-scale environment map creation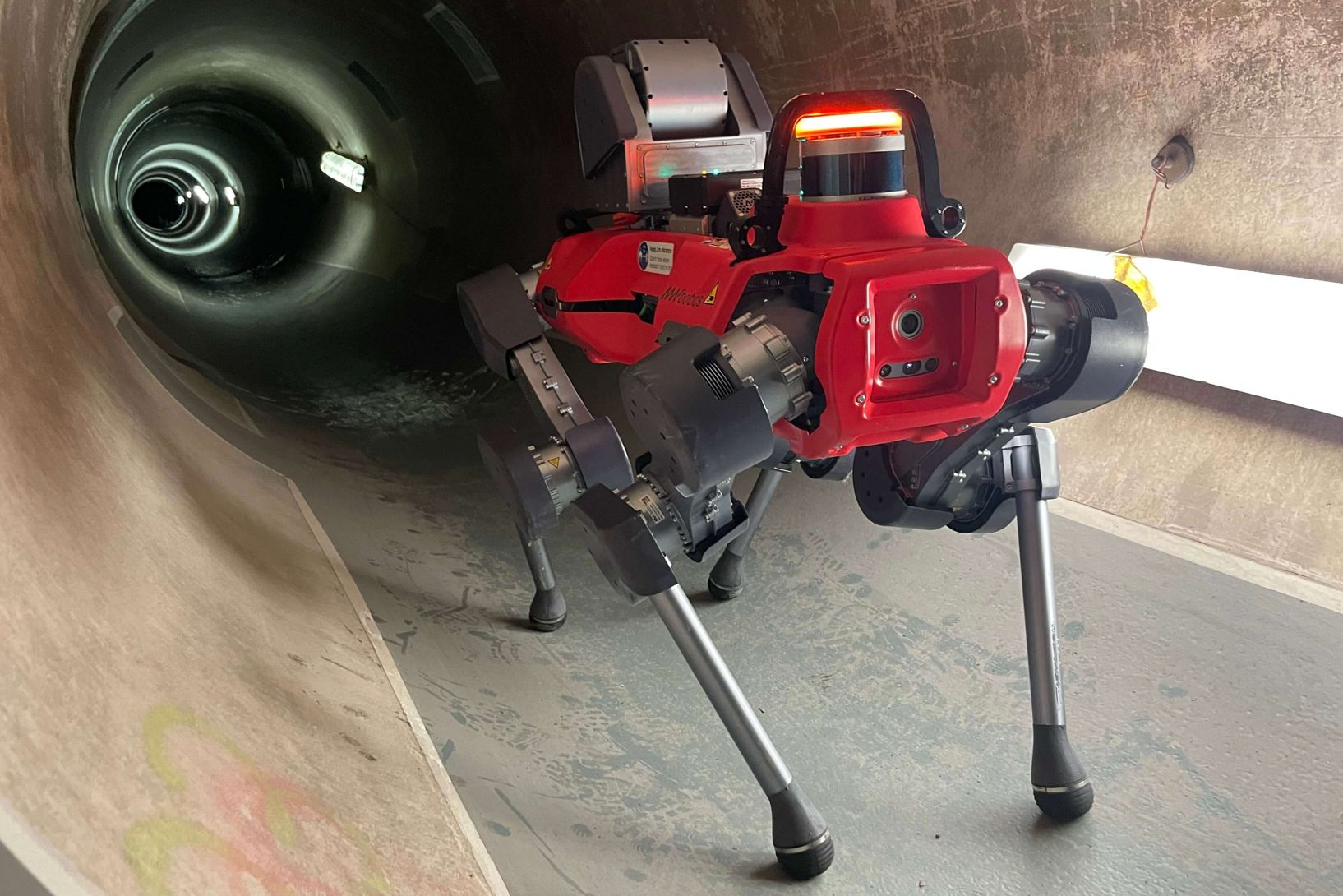 Improved loop closure enables more precise navigation and mapping without connectivity.
Maximizing ANYmal's Operational Impact with Enhanced Connectivity Options
Customers can further enhance ANYmal's operational efficiency by seamlessly monitoring and controlling it, even in regions with limited or no Wi-Fi connectivity with the new ANYbotics LTE Accessory. Starting in 2024, the LTE Accessory will be integrated into all ANYmal units and available for earlier models through a simple upgrade process.
Key Features
Access global LTE bands using the user-provided SIM card
Retrofit the LTE Accessory to ANYmals in operation (ANYmal X includes LTE & 5G)
Utilize unlimited connectivity with ANYbotics' Robot-as-a-Service model
Enhanced Video Recording Options for Improved Asset Health Assessment
As an end-to-end robotic solution, ANYmal meets customers' evolving needs by enhancing all ANYmals, including retroactive developments for robots in operation. All customers now have access to enhanced visual and auditory recording options. Download the release to better assess the health of your assets by examining jittery gauges, belts, rollers, and other moving equipment.
Key Features
Visual and thermal video and audio recording options via the mission set-up routine
Select recording locations by event type and specified points of interest
Simultaneous recording of visual, acoustic, and thermal data
The Outlook for Remote Customized Fleet-Wide Control
The ANYbotics Workforce Suite is under extensive development to optimize fleet-wide control for various user levels. It offers three different modes for operators, catering to field operators, mission controllers, and administrators, ensuring safety and efficiency. This suite also enables remote control, seamlessly integrating ANYmal into workflows. Operators within the Workforce platform can connect to remote ANYmals for monitoring and control during hazardous or non-routine operations, allowing remote task completion using ANYmal's capabilities. The Field Operator mode is active with the Mission Controller and Robot Administrator modes planned for 2024 release.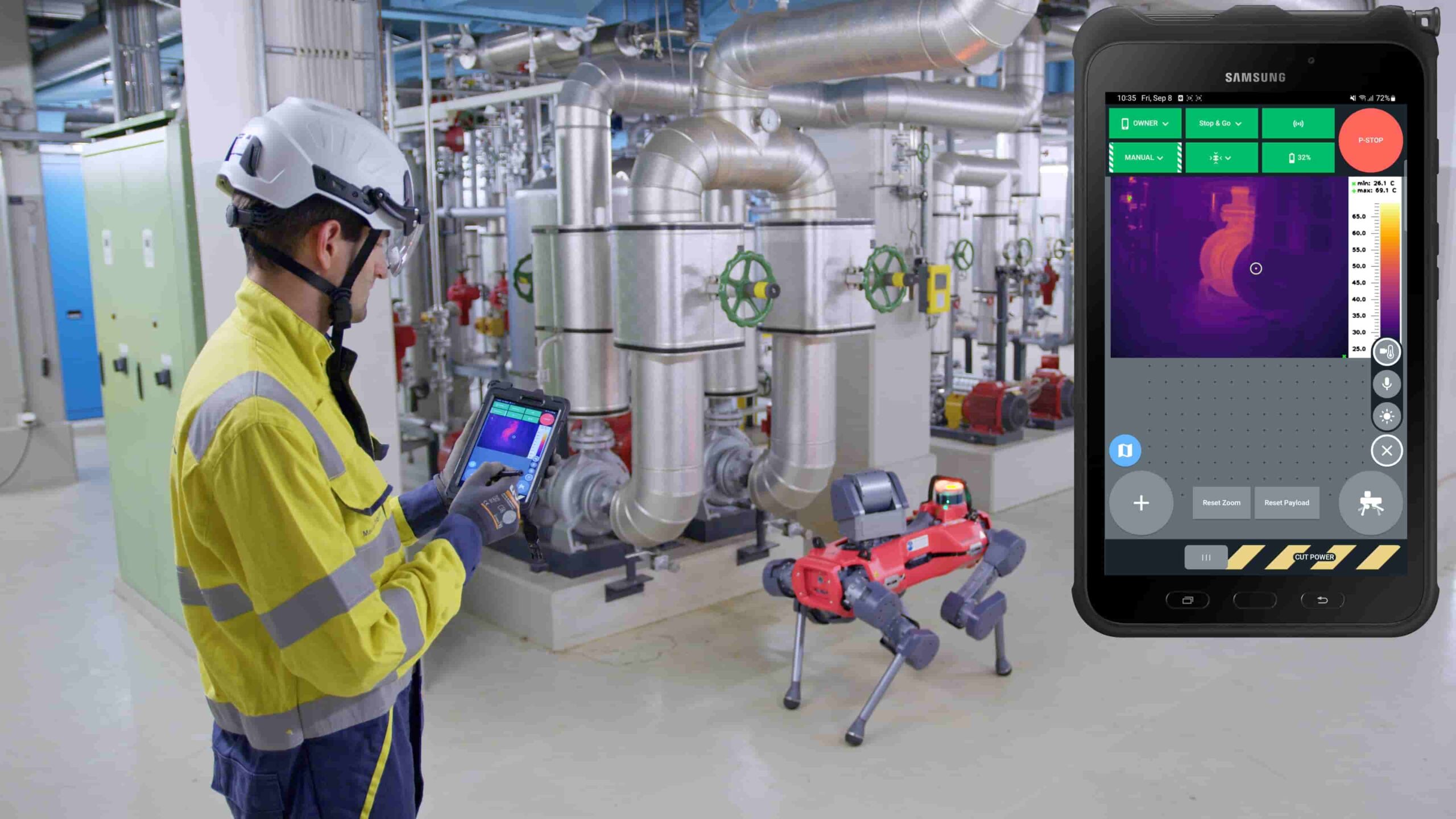 Workforce – The improved browser-based ANYbotics Field Operator application.
Key Features
The Field Operator mode enables users to steer, set points of interest, visualize recorded facility maps, and create inspection missions
The Mission Controller mode enables operators to safely control a single ANYmal, monitor a fleet, and execute validated missions from thousands of kilometers away (2024)
The Robot Administrator unlocks protected functions for fleet-wide software upgrades (2024)