At ANYbotics, we constantly release exciting new software features and payloads to our customers. The December 2022 update introduces major product developments that make it easier for operators to deploy ANYmal, monitor gas leakages, perform high-precision reality capture, attain more insight from thermal measurements, and cover wider areas through new mobility features.
Introducing ANYbotics Workforce – Intuitive Robot Control from Any Device
ANYbotics introduces Workforce, a new and intuitive user interface (UI) that enables any facility personnel to operate ANYmal from any device. Workforce enables you to set-up and verify missions which reduces the time to deploy ANYmal to a few hours. Get started with the tablet provided or access Workforce from any device with a web browser for easy automation of routine inspection tasks at scale.
Key Features
Streamlined workflow enables a single operator to set up complex inspection missions quickly
View and verify real-time robot data such as 3D scan results and data from visual, thermal, and acoustic measurements
Intuitive and accurate robot control during mission setup with built-in safety checks
Work with the ruggedized tablet shipped with ANYmal (durable, water- and dust-resistant) or use existing company devices
Access ANYbotics Workforce through a browser from any device (no downloads or installation required)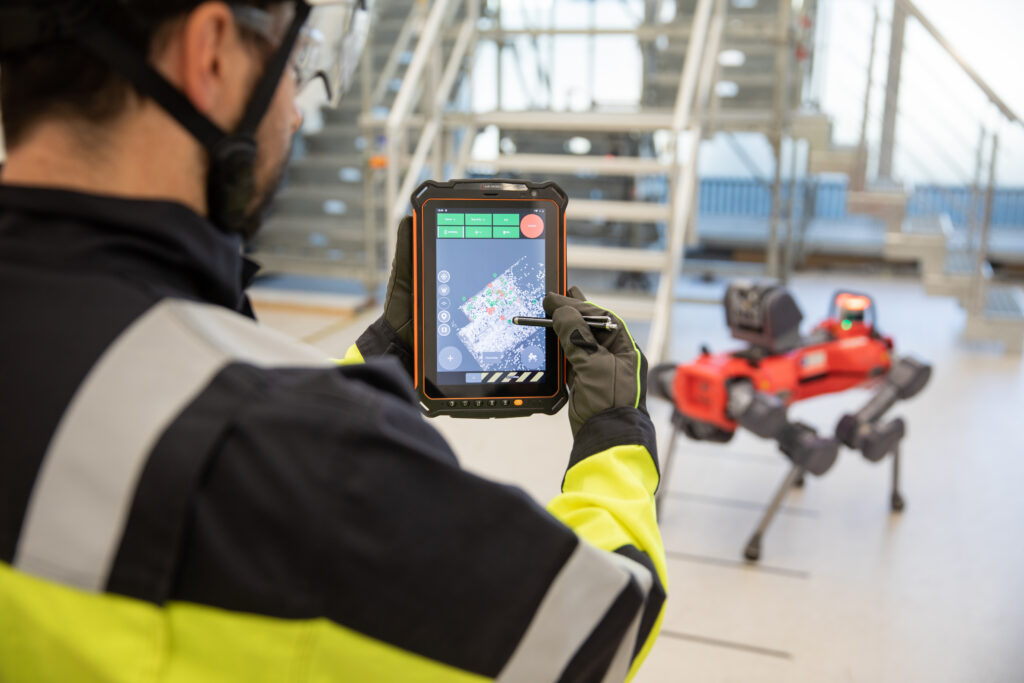 The ruggedized tablet is ideally suited for deploying ANYmal in harsh environments. The UI is displaying a 3D visual representation of the mapped area.
Early Gas Leakage Detection Through Continuous Gas Monitoring
ANYmal's new gas sensor suite monitors concentration levels for combustible and toxic gases in industrial facilities in real-time. Setting preconfigured gas-level thresholds enables operators to take early precautionary measures to the presence of combustible and toxic gases. The gas sensor suite ensures wide coverage as a single robot can monitor large-scale sites through the scheduling of automated, routine mobile sensing.
Key Features
Early detection of anomalous gas concentration areas
Gas concentrations visualized real-time and included in mission reports
Concentration trends, comparisons and pattern tracking through 'gas mapping'
Choose your preferred configuration and connect up to two gas sensors simultaneously
ANYmal Gas Sensor Suite – Standard Payloads
Combustible gases – LEL (Lower Explosive Limit)
Ethylene C2H4, Methane CH4, Propane C3H8
Toxic gases – ppm (parts per million)
Ammonia NH3, Carbon Monoxide CO, Chlorine Cl2, Hydrogen H2, Hydrogen Sulphide H2S, Oxygen O2, Nitric Oxide NO, Nitrogen Dioxide NO2, Sulphur Dioxide SO2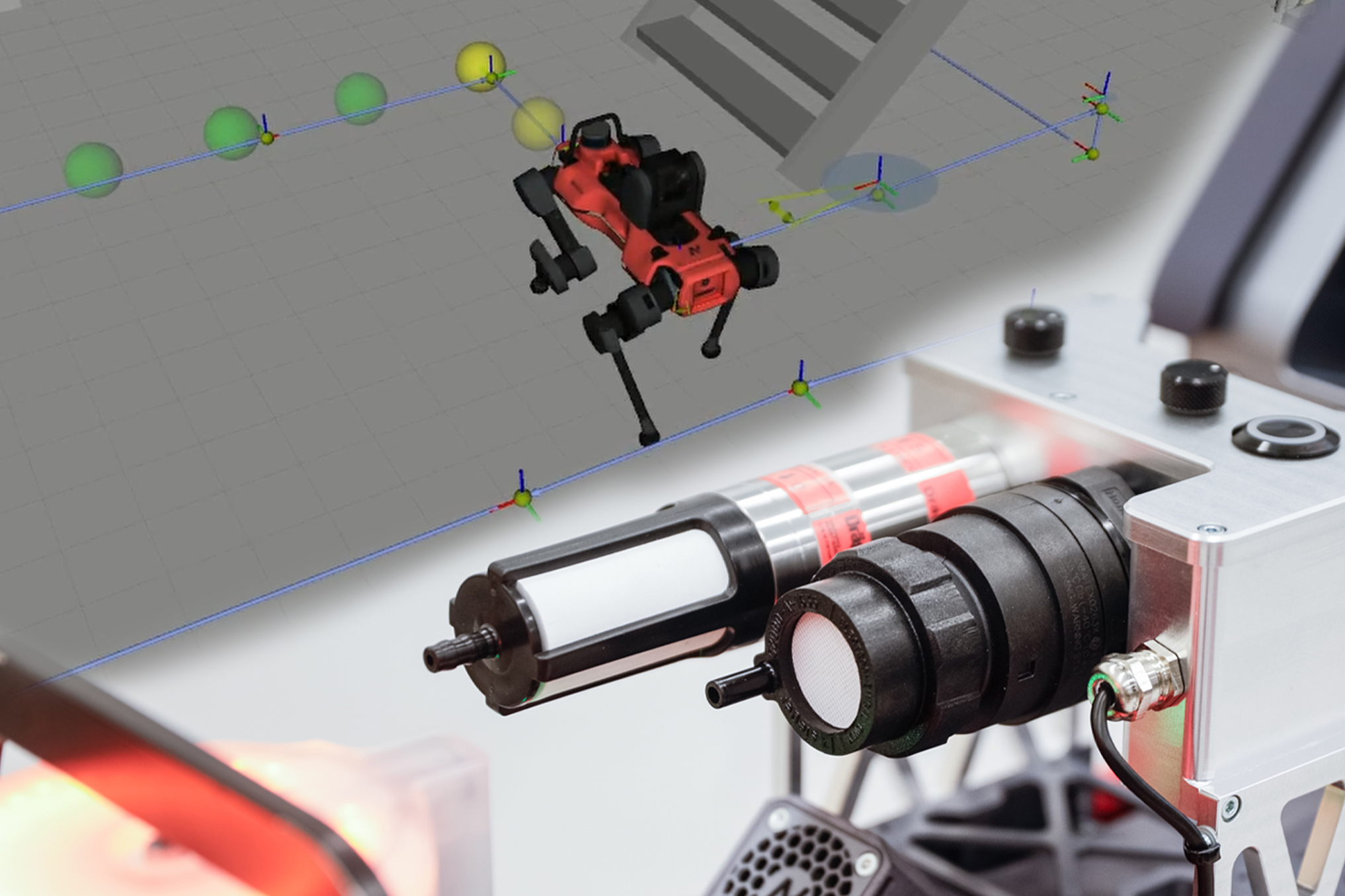 ANYmal's gas sensor suite has two berths and the modular cartridge facilitates the customization of sensors.
High-Precision Reality Capture with Leica BLK ARC
ANYbotics partners with Leica Geosystems to automate high-precision reality capture and 3D scanning. ANYmal's Leica BLK ARC payload integration creates detailed 3D models during regular inspections. Digital twins and inventory models can be easily created, and for dynamic sites, infrastructure progress checks and 3D model updates can be done daily. This makes on-demand 3D models available to operators, more accurately, cheaper and quicker. Compared to outsourced facility scanning, the BLK ARC – ANYmal solution is estimated to be seven times more cost efficient.
Key Features
Create accurate digital twins of your facility effortless while ANYmal performs its autonomous inspection mission
Seamless BLK ARC operation from the ANYmal UI – control the scanner acquisition, visualize and manage your scans from a single interface
Visualize, measure, export, and create your own custom workflows making use of the Leica software ecosystem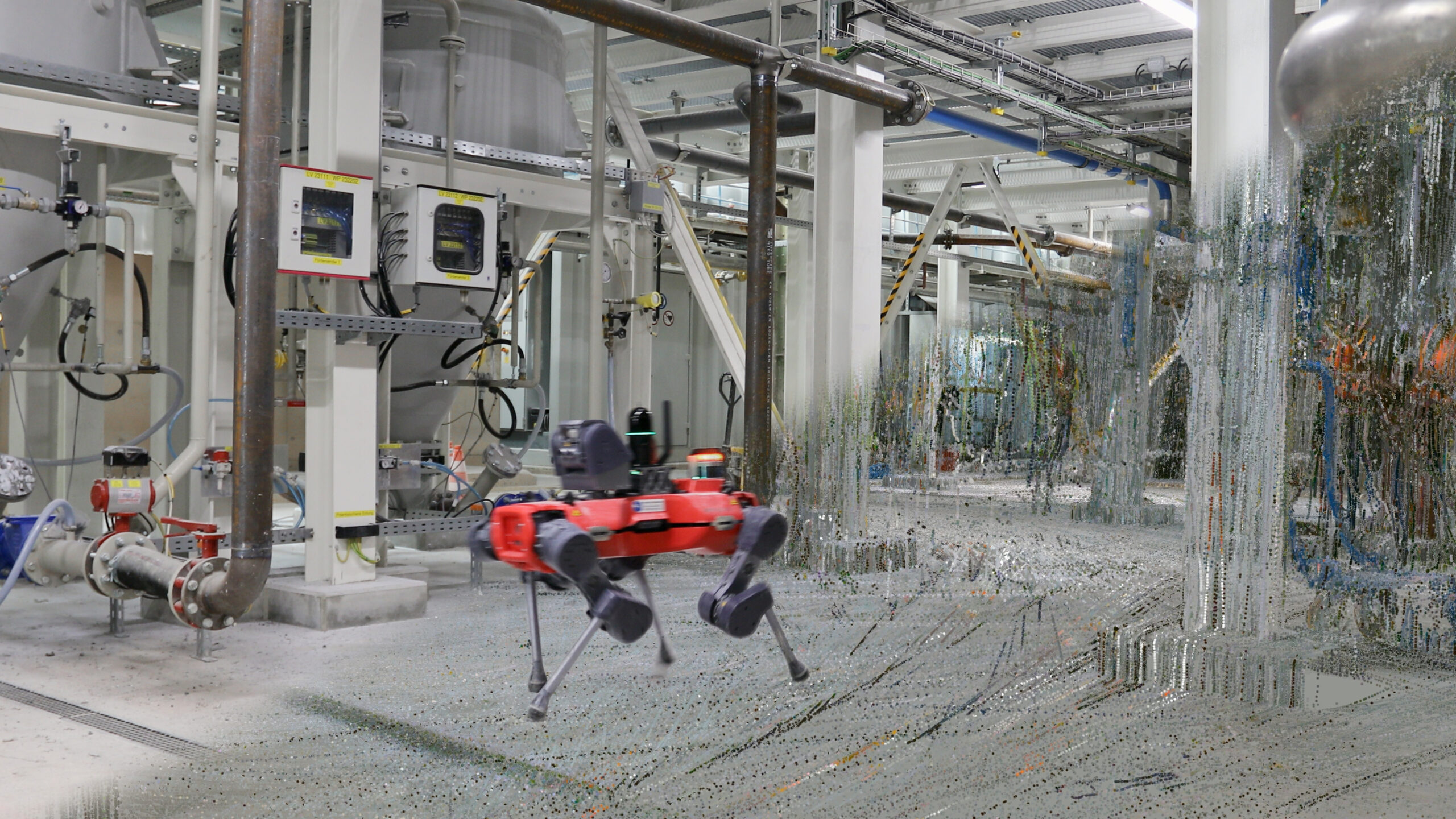 A rendering of ANYmal effortlessly creating an accurate digital twin of a chemical facility while performing an autonomous inspection mission.
Dynamic Thermal Inspections for Anomaly Detection
Frequent automated thermal inspection provides powerful, previously undetected, insights about the condition of equipment. This allows anomalies to be addressed before any defects occur, which improves predictive maintenance. The chemicals company Grace, for example, uses ANYmal for automated thermal inspection in their routine operations and was able to increase overall equipment uptime by 1.5%.
Regions of interest can now be defined to more precisely monitor specific elements. Pre-defined temperature ranges of choice mask environmental influence and provide more accurate measurements. Typical use cases include overheating of machines, pipes and cables, hot gas and liquid leakages, corrosion or moisture under insulation, and malfunction of parts.The captured data can be analyzed via thermal pictures or as raw data in the operator's analytics software of choice.
Key Features
Define regions of interest to isolate data from environmental influence
Preset temperature ranges  (min.-max. settings by area and/or mission)
Improved thermal image interpretation through dynamic visualization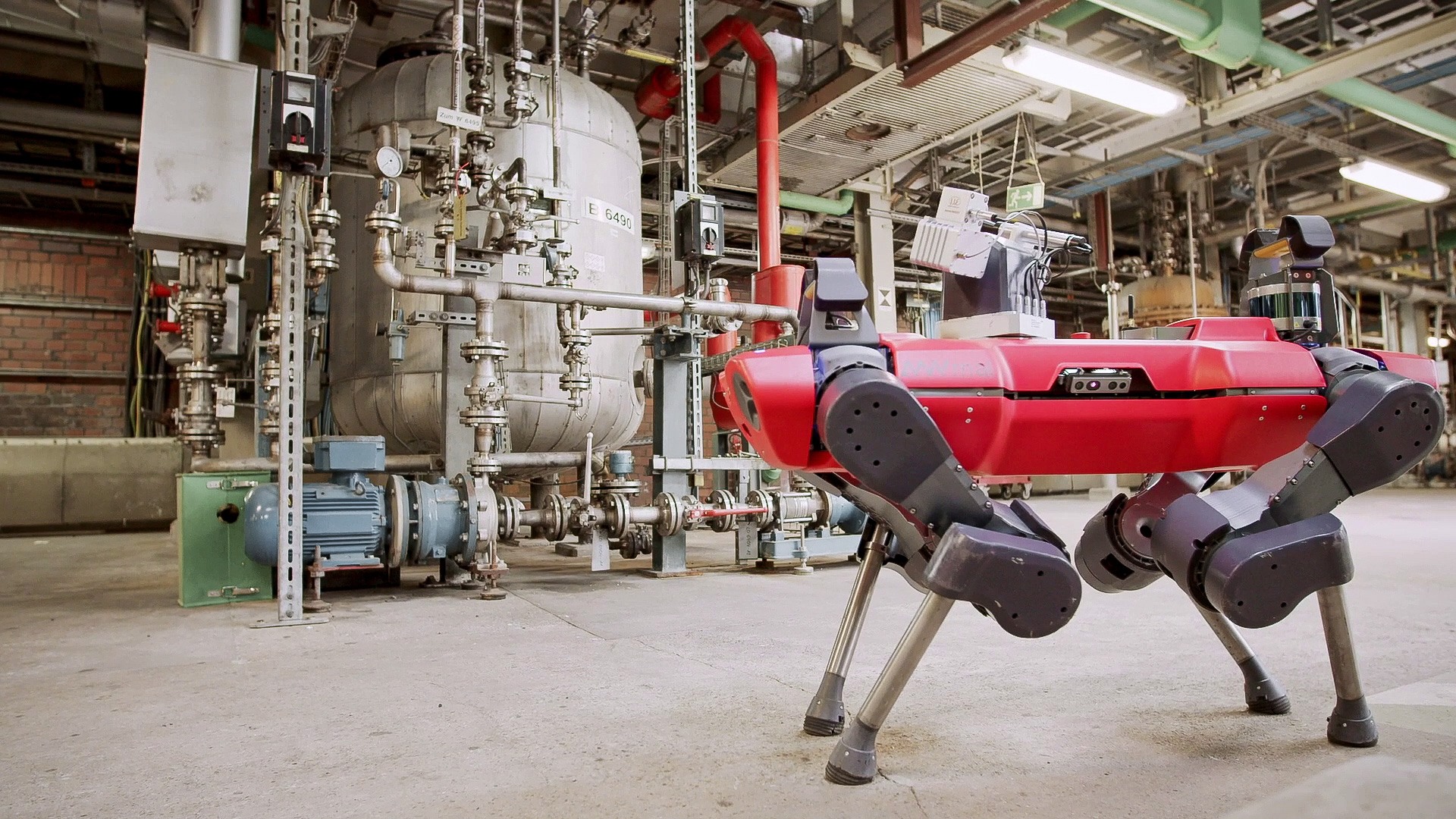 Frequent thermal inspection shows anomalies before defects occur.
ANYmal Software Update Pushes Limits of Robot Mobility
Reliable, flexible, and safe robot all-terrain mobility is a game-changer for robot industrial inspection. ANYbotics releases the next-generation version of Trekker, its AI-based robot control software for ANYmal. Trekker now processes real-time input from ANYmal's depth cameras, lidar and terrain map. By intelligently walking with all of its senses, ANYmal can safely and efficiently move in even more challenging environments, such as climbing higher steps, dual-orientation stair climbing, and staying clear of high edges.
Key Features
Bi-directional stair climbing (no need to turn around)
Overcoming steps up and down up to 30 cm
Cliff avoidance by staying clear of high edges
Near-field collision avoidance results in narrow space (70 cm) maneuverability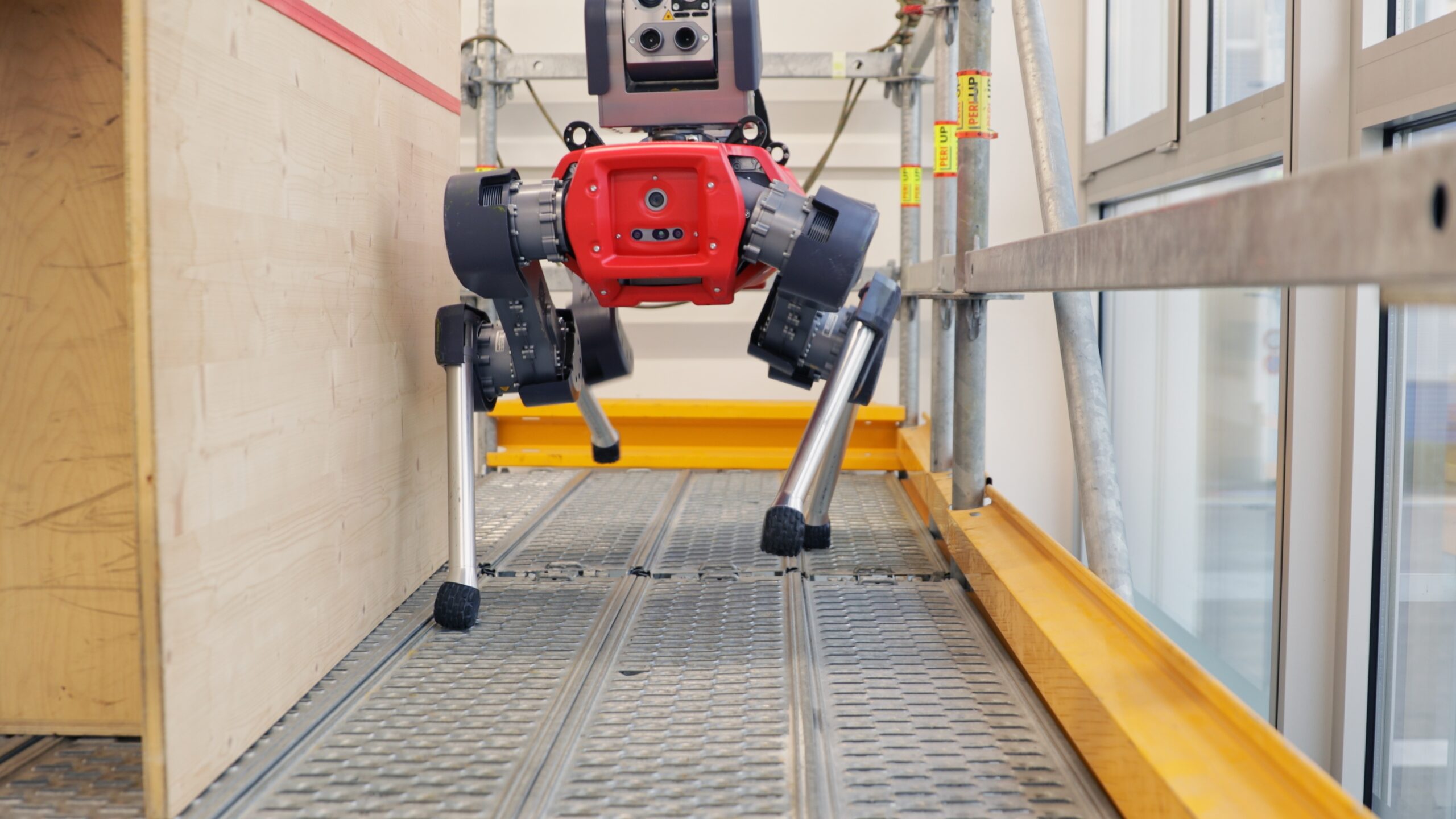 Trekker now enables ANYmal to safely maneuver through very narrow spaces.
Learn More
Watch the on-demand webinar to see the new capabilities in action.

Feel free to contact us for any questions and inquiries.
About ANYbotics
Since 2016, Swiss robotics company ANYbotics has developed innovative, intelligent, and integrated robotic solutions that improve workers' lives, increase productivity, and support more sustainable industrial facilities. Partnering with global technology leaders, ANYbotics provides autonomous, automated, end-to-end robotic inspection solutions, for complex, hazardous, and explosive industrial environments, to large asset operators. ANYbotics is a fast-growing company of over 100 employees focused on supporting the inspection needs of workers in oil & gas, power, energy, mining, processing, chemicals, transportation, and construction.