Zurich, 15 November 2023 – Aker BP, Cognite, and ANYbotics partner in pioneering offshore remote inspections with ANYmal X on the Valhall platform in the North Sea. ANYmal X, the only Ex-certified legged robot, was tested for integrated robotic inspections in offshore Ex-rated zones, showcasing the benefits of Cognite's real-time digital twins and comprehensive AI-powered data platform. This is a significant step in Aker BP's aim to implement remote inspections as an enabler for unmanned operation of complex offshore processing platforms by 2027-2029.
Aker BP, Cognite and ANYbotics Pioneering Integrated Robotic Inspection
Valhall, situated 300 kilometers offshore, is a complex with manned central platforms connected by bridges and multiple normally unmanned support platforms accessed regularly by helicopters. It features multiple levels and numerous Ex-zones and experiences diverse weather conditions like direct sunlight, heavy rain, and high winds. A key part of the deployment on Valhall was to integrate ANYmal X data via the ANYmal API, enabling operation from onshore as a step towards fully unmanned future platforms.
ANYmal X enhances digital twins in real time through automated live data and event streaming, facilitating equipment location, analytics, and reporting. Cognite consolidates and contextualizes this data along with all operations, engineering, and traditional (IT) data within its user-friendly, secure, and scalable platform, Cognite Data Fusion®. This makes it easy for all decision-makers to access and use complex industrial data to increase operational excellence, maximize production efficiency, and ensure safe and sustainable operations through AI and robotics.
This first integration of ANYmal X and Cognite Data Fusion® showcased the benefits of remote inspections in Ex-zones using a digital twin. The tests at Valhall took place at two of its decks, including 70 inspection points, enabling offshore operators to plan missions with ANYbotics Workforce and analyze data in Cognite Data Fusion®. The onshore control room could also take over inspection missions for manual investigation in first responder scenarios via Cognite Data Fusion®.
By connecting ANYmal to other, contextualized, operational data using Cognite Data Fusion® and the ANYmal API, industrial organizations can make better use of their data and robots. This helps increase safety, enable remote work, and enhance efficiency overall. important that we collaborate. Events like this help the collaboration because all the stakeholders of the industry are represented.
— Elias Bjørne, Product Manager, Cognite
Aker BP Tests ANYmal X's Performance
ANYmal X, the sole Ex-certified legged robot, is transforming the Oil & Gas industry. Its deployment is driving companies to accelerate robotic inspections. With prior robot experience, Aker BP tested ANYmal X for autonomous, integrated inspections in offshore Ex-rated zones.
Test cases covered mission launches, mission interruption for remote onshore control, remote investigations, and resuming inspections. The evaluation included reliability, initial responses to false alarms, ad hoc monitoring deployments, 4G connectivity, and operator access to ANYmal X data feeds.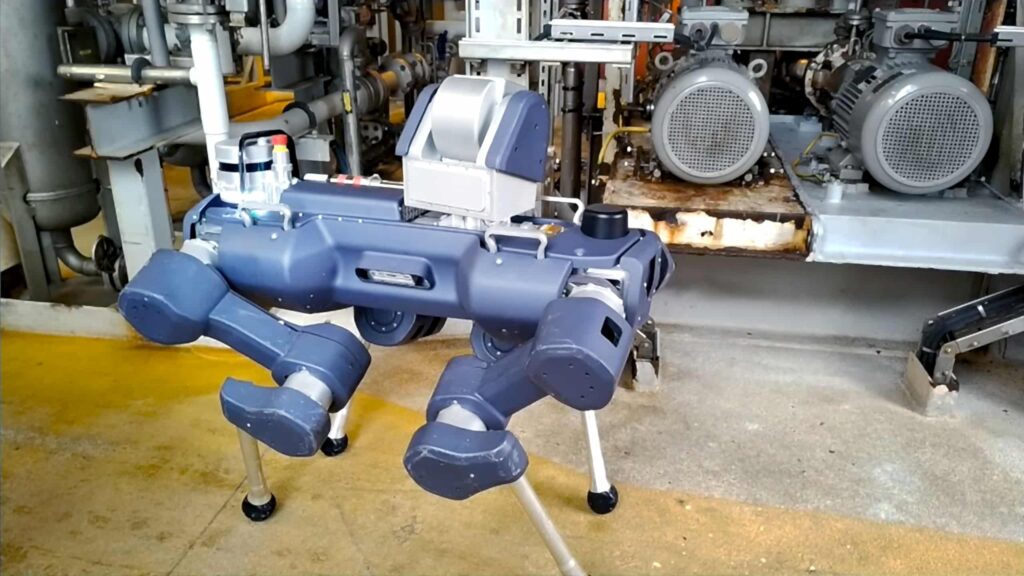 ANYmal X conducting autonomous inspection missions on the Valhall platform in the North Sea.
The Next Step in Autonomous, Integrated Robot Workforces
This offshore deployment was another first and demonstrated the capabilities of ANYmal X and the progress ANYbotics is making in realizing its vision of an autonomous and integrated robotic workforce. The results of the ANYmal X – Cognite Data Fusion® integration are an essential step for Aker BP's progress in implementing remote inspection in Ex-zones on unmanned platforms by leveraging digital twins built on top of a secure, open, comprehensive data foundation to run autonomous integrated robots such as ANYmal X. Insights gained from this deployment bring Aker BP closer to its goal of reducing the number of offshore helicopter transfers and enabling fully unmanned future for selected platforms by 2027-2029.
Aker BP produces offshore oil and gas in Norway, and we plan to run some of our assets as unmanned installations in the future. It was a good test on Valhall, giving us a qualified experience to build on going forward. Our team learned a lot. We need Ex-certified robots like ANYmal X to be able to use robots offshore.
— Terje Hammer Meling, Senior Project Engineer, Aker BP
About Aker BP
Aker BP is a company engaged in exploration, field development, and production of oil and gas on the Norwegian continental shelf. The company operates six field centers: Alvheim, Ivar Aasen, Skarv, Edvard Grieg, Ula, and Valhall, and is a partner in the Johan Sverdrup field. Measured in production, Aker BP is one of the largest independent oil companies in Europe.
About Cognite
Cognite is a globally recognized leader in industrial software with a clear vision: to rapidly empower industrial companies with accessible, trustworthy, and contextualized data and drive the full-scale digital transformation of asset-heavy industries. With its market-leading Industrial DataOps platform, Cognite Data Fusion®, and a comprehensive suite of Industrial Generative AI capabilities, Cognite AI makes it easy for decision-makers to access and understand complex industrial data. Cognite Data Fusion® is a user-friendly, secure, and scalable platform that enables industrial data and domain users to collaborate quickly and safely to develop, deploy, and scale Industrial Generative AI solutions that deliver profitability and sustainability.
About ANYbotics
Since 2016, Swiss robotics company ANYbotics has developed innovative, intelligent, and integrated robotic solutions that improve workers' lives, increase productivity, and support more sustainable industrial facilities. Partnering with global technology leaders, ANYbotics provides large asset operators with autonomous, automated, end-to-end robotic inspection solutions for complex, hazardous, and explosive industrial environments. ANYbotics is a fast-growing company with over 100 employees focused on supporting the inspection needs of workers in oil & gas, power, energy, mining, processing, chemicals, transportation, and construction.