First ANYmal Customer Delivery
In our mission to let robots go anywhere, we have developed ANYmal, one of the most advanced mobile robot. ANYmal features powerful motion and navigation capabilities in a rugged, water-proof design – to get the job done, where other robots cannot. After eight years of research, we are proud to announce that the first ANYmal has stepped off the factory floor and was successfully delivered to the University of Edinburgh. The researchers at the Edinburgh Centre for Robotics will use ANYmal to research on legged locomotion, perception, and motion planning.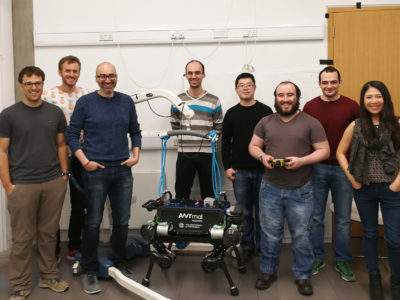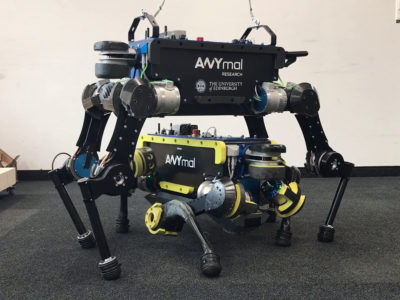 ---
ANYdrive Pre-Release
The ANYdrive with EtherCAT communication is now available as pre-release for selected customers. We are looking for tough use cases from industry and research. Tell us about your application and get your hands on the ANYdrive.
ANYmal at the World Petroleum Congress
ANYmal demonstrated its abilities in Istanbul at the 2017 World Petroleum Congress in collaboration with TOTAL. Fully autonomously, ANYmal inspected visual checkpoints, took sensor readings, and navigated through a challenging parkour of steps, gaps, obstacles, and stairs. Read the article on the International Business Times.
IEEE ICRA Award
At ICRA 2017 Conference in Singapore, ANYbotics was announced finalist for the IEEE/IFR Invention and Entrepreneurship Award (IERA) for the modular robot joint actuator ANYdrive.