Zurich, 28-09-2023 –The 2023 ANYbotics Industry Forum, held in Zurich, Switzerland, on September 20 and 21, brought together 60 professionals from safety, inspection, maintenance, robotics, and innovation. The gathering facilitated an intimate exchange between industry experts who shared insights on their robotics programs and deployment experiences. ANYbotics announced its next Industry Forum on September 11 and 12 2024, to be held in Zurich.
ANYbotics Industry Forum Focuses on Customer Deployments and Open Exchange
ANYbotics created the Industry Forum (AIF) to facilitate the exchange between companies driving the adoption of robotic inspection in their operations. AIF is an exclusive networking platform for safety, inspection, maintenance, operations, robotics, and innovation professionals from various industries — a community of innovators making it happen in their organizations. The focus of the event was on sharing practical experience and strategic roadmaps from robotic practices at large asset operators. The program was enriched by keynotes on robotics from different perspectives, an ANYmal development roadmap discussion, and plenty of room for networking and informal exchange.
To reach more global deployments of robotics, it's really important that we collaborate. Events like this help the collaboration because all the stakeholders of the industry are represented.
— Niels Westendorp, Chief Business Development Officer, Quasset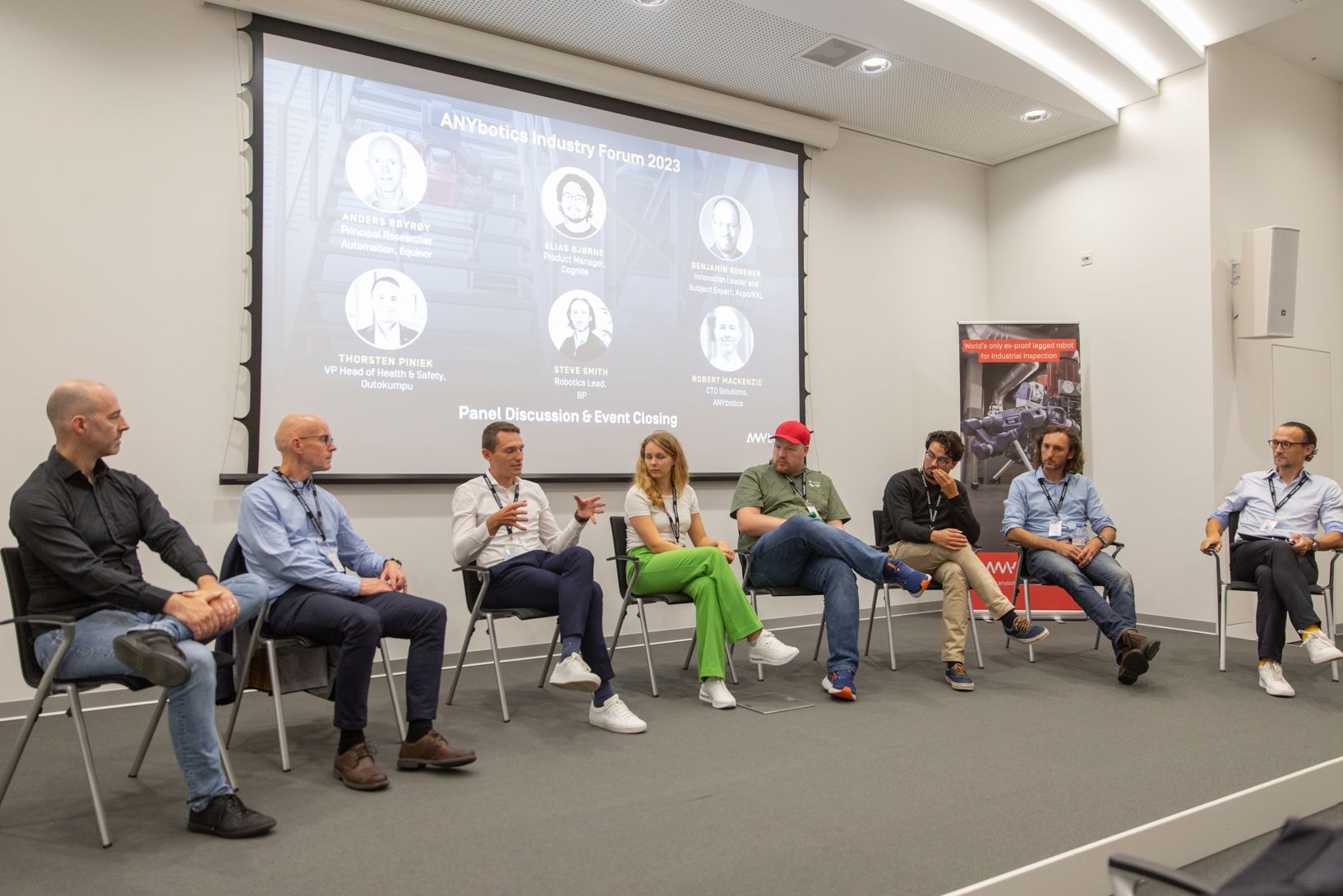 The end-user panel addressed the significance of cultural aspects in the success of robotics programs.
First-hand Reports of ANYmal X Inspecting Ex-zones
BP, Cognite, and Equinor shared their experiences from deploying ANYmal X in Ex-rated areas. While Equinor focussed on insights they gained from the deployment at their onshore Technology Test Center during the Early Adopters Program, BP and Cognite presented their experiences from different offshore deployments in the North Sea. BP shared their findings from condition monitoring during extreme weather conditions and Cognite demonstrated how they fully integrated ANYmal X with their Cognite Data Fusion platform for data analysis and onshore robot supervision.
Customers' Value-Driven Robotics Programs
The presentations of Alstom, DSM-firmenich, and W.C. Grace focussed on predictive maintenance and how it increases the reliability of railway rolling stock and chemical production. ANYmal was described as the essential data-gathering platform in these initiatives. Outokumpu and KKL/Axpo shared examples of how ANYmal can take over routine inspection in an environment where human exposure should be minimized, like in steel production and nuclear sites. One recurring theme in the presentations was the importance of cultural aspects and active change management to adopt the technology successfully.
Keynotes on the Future of Robotics by Google DeepMind and AWS
Google DeepMind presented its robotics program, highlighting the potential of large language models for robotics and their impact on the user experience. However, one key challenge is the limited availability of data in an industrial context. AWS addressed the future of robotics and explored the central role of cloud technology in shaping that future.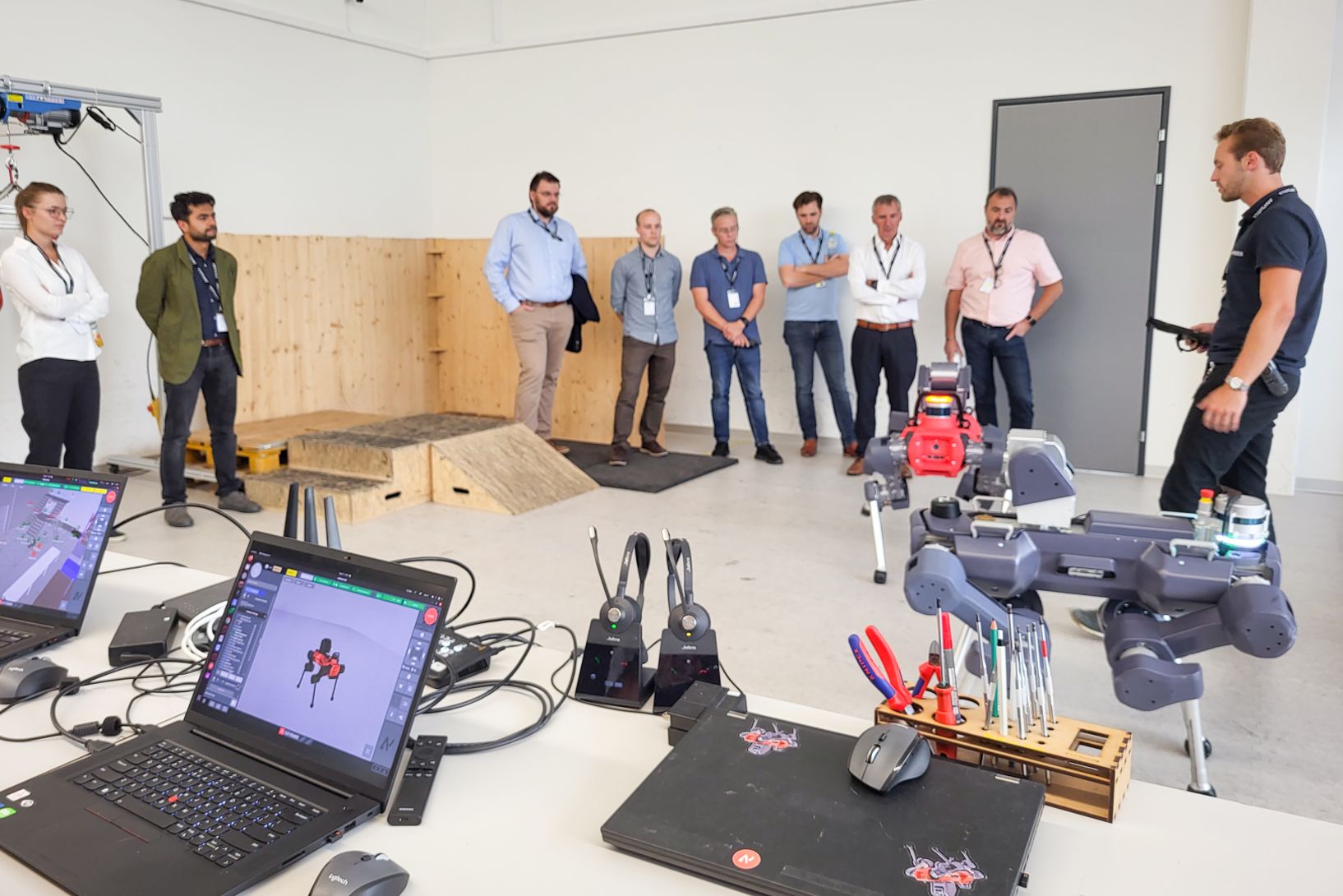 Attendees received a sneak peek into the latest ANYmal developments.
Exclusive Preview of ANYmal Developments and Roadmap
The technical and commercial ANYbotics teams provided an open dialog on the ANYmal and ANYmal X development plan, facility tours, poster sessions, and technical in-depths on the ANYmal solution. They showed the latest product enhancements in robotic fleet management and AI locomotion, which will be presented publicly in a webinar on October 5, 2023 (you can register here). ANYbotics also announced next year's installment of its Industry Forum on September 11 and 12, 2024 in Zurich.
We were deeply impressed by our customers' presentations of their robotic programs and ANYmal deployments. They make the ANYbotics Industry Forum what it's meant to be: an accelerator event for robotic inspection.
— Dr. Péter Fankhauser, Co-Founder and CEO, ANYbotics
Experience ANYmal X at the SPRINT Robotics World Conference
The next public opportunity to see ANYmal X and ANYmal will be at the SPRINT Robotics World Conference for Inspection and Maintenance Robotics on 10-11 October in Houston. Visitors can meet ANYmal during daily demonstrations and engage with the ANYbotics team. To secure dedicated time with Oil & Gas and Chemicals industry specialists, ANYbotics has set up a booking service here.
About ANYbotics
Since 2016, Swiss robotics company ANYbotics has developed innovative, intelligent, and integrated robotic solutions that improve workers' lives, increase productivity, and support more sustainable industrial facilities. Partnering with global technology leaders, ANYbotics provides large asset operators with autonomous, automated, end-to-end robotic inspection solutions for complex, hazardous, and explosive industrial environments. ANYbotics is a fast-growing company with over 100 employees focused on supporting the inspection needs of workers in oil & gas, power, energy, mining, processing, chemicals, transportation, and construction.