ANYmal C
Solving challenges that only four legs can stand up to.
Overview – What are you looking for?
explore ANYmal's features
Extreme mobility
ANYmal C's legs provide unparalleled mobility when moving 
up and down stairs, climbing over obstacles, steps, and gaps, and crawling into tight spaces. Driven by powerful and fully torque-controllable actuators, ANYmal adapts to any terrain with a sense of touch.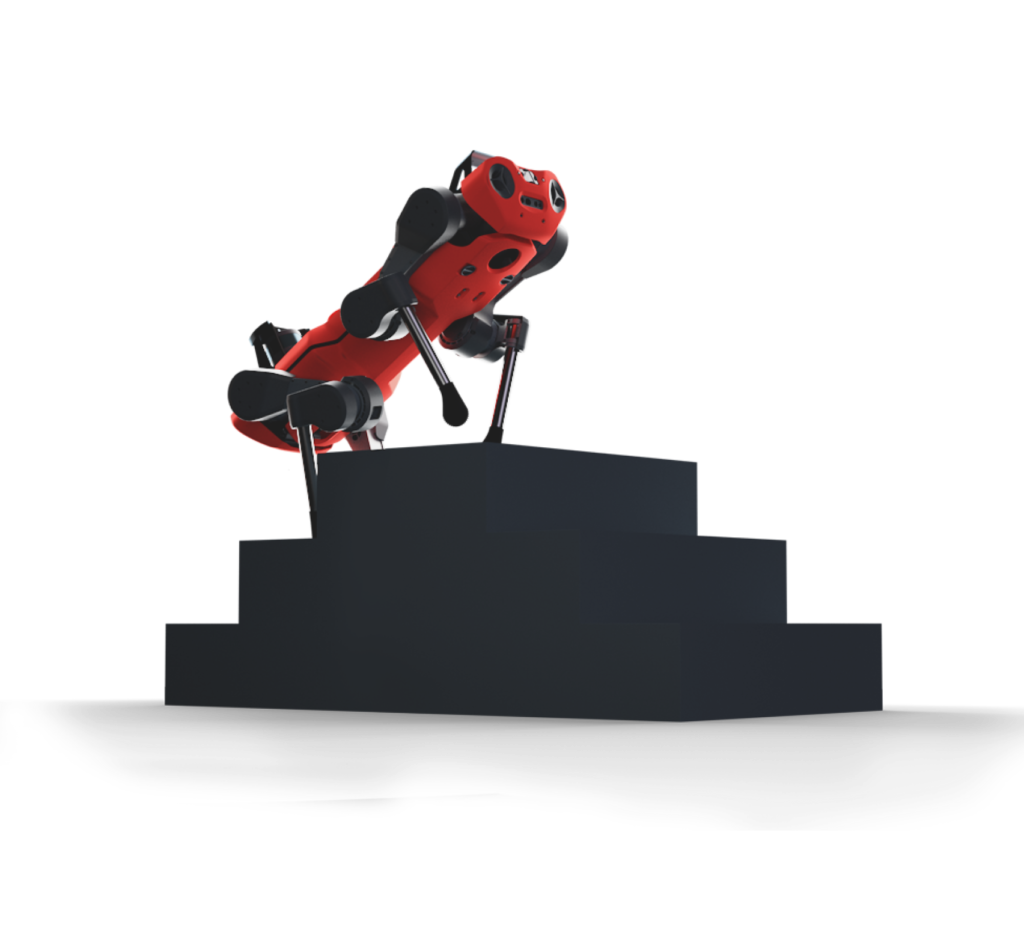 Full autonomy
ANYmal C fully autonomously navigates through complex multi-floor environments. Once guided through the environment, ANYmal remembers every corner and finds the quickest route to perform its mission. During operation, the system safely avoids obstacles and reliably moves over rough terrain.
Docking station
The onboard battery enables continuous operation for 2–4 hours depending on the activity. For recharging, the robot connects to a docking station by itself and without operator interaction. If needed, the battery can also be easily swapped for a full one without tools.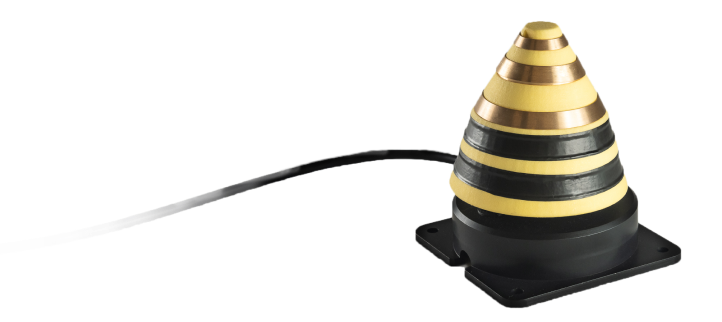 Ease of use
Joystick
ANYmal C includes a certified remote control for line-of-sight manual control. The remote control is ruggedized, waterproof, and can be used easily with work gloves.
Workstation
A workstation is used to monitor ANYmal's performance and to conduct supervised tasks. Communication is channeled through the internet or WiFi network enabling long-distance control.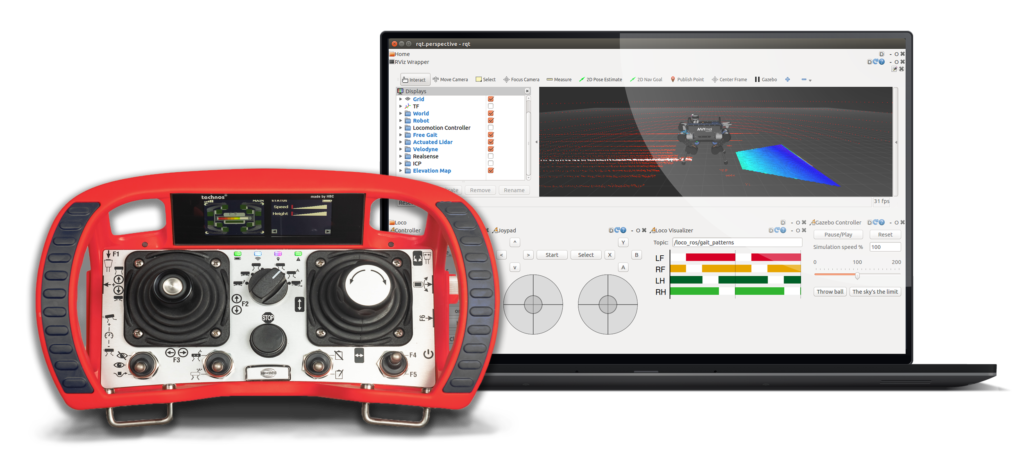 Robust & all-weather proof
ANYmal C delivers reliable performance in harsh in- and outdoor environments with rain, splash water, wind, snow, and dust. ANYmal C is IP67 water- and dust-proof and the ruggedized enclosure protects the system from impacts. The perception system operates in all light conditions including bright sunlight and full darkness.
IP67 water- and dust-proof
Dedicated Intel i7 Dual-core
Ethernet, USB, 12 & 48 VDC
As a multi-purpose robot platform, ANYmal C is expandable to tackle a wide range of applications. With up to 10 kg in payload, built-in communication and power interfaces, and a dedicated onboard computer, ANYmal C is equipped to take on any task. The software is interfaced with APIs based on the open-source Robotic Operating System (ROS).
Inspection payload

For a wide range of industrial inspection tasks, this module carries visual and thermal cameras and a spotlight on a pan-tilt unit.

The visual camera provides a 10x optical zoom to take clear images and videos at far distances. The LED spotlight is used to support the visual camera under insufficient lighting conditions.

The thermal camera provides precise temperature readings in a range of -20–500 °C without physical interaction.

Graphics card

For tasks where massive parallel computation is required, ANYmal C is equipped with a NVIDIA Jetson AGX Xavier graphics card.

This allows to execute powerful computer vision and deep learning algorithms.

Application interface

The application interface provides access to the robot's communication and power interfaces through sealed standard plugs (IP67). The module features 48 V and regulated 12 V power sources and access to the built-in application computer through USB 2.0 & 3.0 and Ethernet (1 Gbps). The application interface allows for simplified attachment of custom payloads, but is not in general required for payload integration.
Events
See ANYmal in action at the following events:
Wind Energy Technology Summit
Interested to know what emerging technologies like robotics for example will bring to the offshore wind industry? Hanspeter Fässler, Chairman and co-founder of ANYbotics will share his insights and experience during a lecture in the "Masterclass - Supportive technologies for offshore wind energy".
Nov 2021
Zürich
Switzerland
Swiss Robotics Day
Join us in the the Swiss Robotics Day and learn more about our newest team member
ANYmal D
and to meet ANYbotics team. This will be a unique opportunity to gain insight on our new end-to-end robotic inspection solution for operators of energy and industrial processing plants.