Meet ANYmal X, your Ex-proof robotic inspector for the Oil & Gas and Chemicals industries.
Ready-to-go


automated inspections
Our robotic solution provides advanced inspection reports by patrolling facilities and monitoring the condition of equipment and infrastructure.
End-to-end robotic inspection
Autonomous mobility in any environment
Super-human inspection intelligence
Automated end-to-end workflow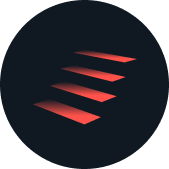 Autonomous mobility
in any environment
ANYmal's design enables autonomous navigation throughout complex and large-scale industrial facilities. Onboarding your ANYmal does not require special preparations within your facility, the robot uses its built-in sensors to adapt to its surroundings. ANYmal is waterproof and weatherproof, sparing your staff unnecessary exposure to harsh or dangerous conditions.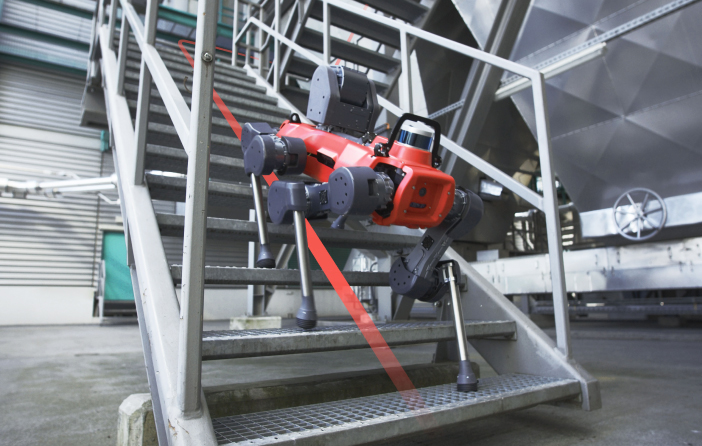 Working in potentially explosive zones?
ANYbotics is developing an Ex-proof ANYmal for potentially explosive environments.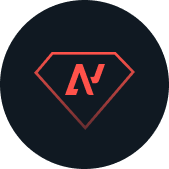 Super-human
inspection intelligence
ANYmal optimizes routine condition monitoring tasks through its ability to collect and report visual, thermographic, and vibration analysis. Our AI-based algorithms provide consistent, reliable, and up-to-date information on the health of your equipment and infrastructure.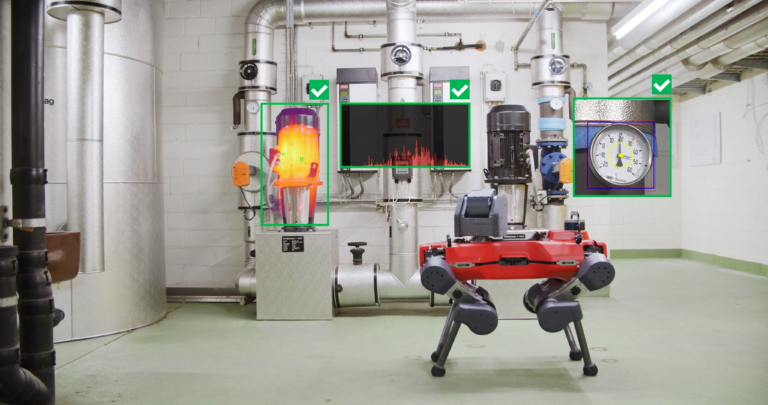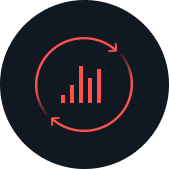 Automated
end-to-end workflow
Pre-scheduled or upon your operator's request, ANYmal performs automated inspection routines and integrates into existing Maintenance Management Systems to produce consistent inspection data and analysis reports. Work with a fleet of ANYmals to easily scale monitoring coverage and frequency.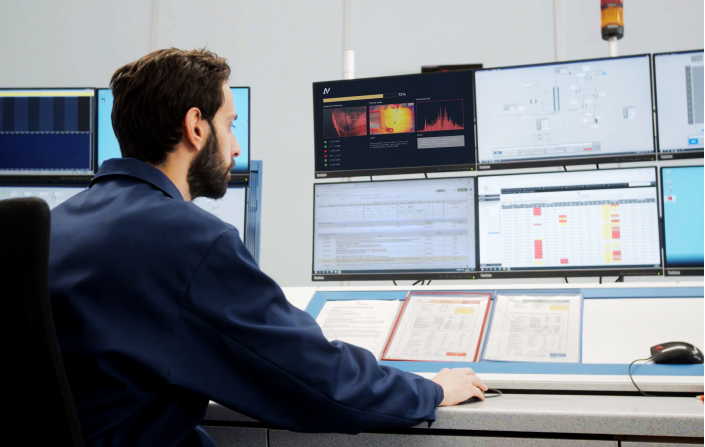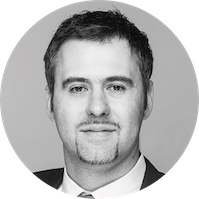 Dr. René Fitterer, CTO SAP Switzerland
"ANYbotics' autonomous mobile robots can provide crucial additional information over existing data sources to gain further insights into the performance of industrial plants."
Support services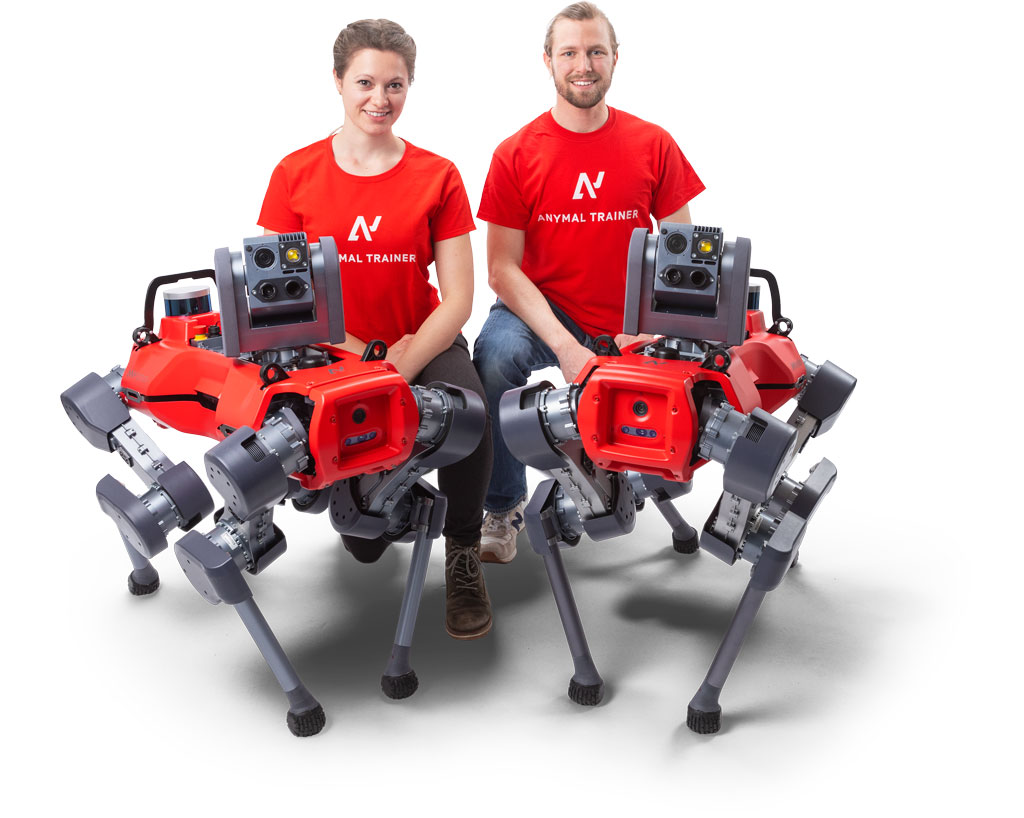 Single point of contact
Your dedicated ANYmal Trainer ensures a successful rollout of your robotic inspection solution. You engage with a single point of contact for streamlined communication, efficient setup, and on-call troubleshooting.
Customer engineering
Every plant is unique. Our team of robotic inspection experts provides hardware and software integrations to adapt ANYmal to your plant's inspection requirements.
Training & support
From initial consultation to ongoing support, ANYmal Trainers work hand-in-hand to educate your team on the technical operation and maintenance of your ANYmal robot or robotic fleet.
Safety & security
Our ANYmal Trainers work along international HSE regulations and are certified for offshore work. ANYbotics' rigorous data-protection policies and protocols ensure the security of your proprietary information.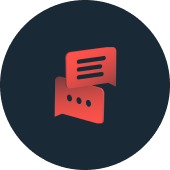 Expert consultation
Work with our robotic inspection experts to assess the application of autonomous inspection robots in your operations.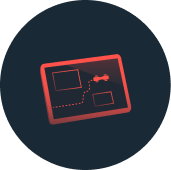 Mission simulation
Create virtual inspection routines offsite with the ANYmal simulator. Our physics-based simulation software enables remote mission setup and validation based on your facility's CAD data or blueprints.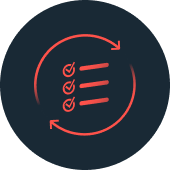 Proof-of-concept
ANYbotics provides on-site demonstrations to verify the impact of our robotic inspection solution at your facility. The results provide you the data and insights to implement ANYmal at enterprise scale.

«The extrapolation of the savings over a year, for one plant, shows about a 1.5% increase in production uptime. This is a significant contribution directly attributable to ANYmal.»
André Kubitzky
Automization and Robotics, Grace
Learn More
Tailor-made offering
We partner with customers by identifying the inspection tasks, environment, and application requirements. Based on our analysis, we provide a custom offer that covers your exact needs.
Pricing structure
Pricing is determined according to customer's needs and is based on the number of robots, accessories, inspection analytics modules, and supporting services such as commissioning and training.
Robot as a service (RaaS)
We are onboarding selected European customers with a care-free subscription service model. Contact us for more information and eligibility.
Events
See ANYmal in action at the following events:
Green Steel World Expo & Conference
For the first time at Green Steel Conference, we are excited to present innovative solutions to the steel industry. Meet us in Essen and get to experience our inspection robot ANYmal in action.
Apr 2023
3 pm UTC+1 (Berlin) time
Online Webinar
Webinar: Automating Inspection
Regular inspection enables predictive maintenance and in this webinar, you learn about the jobs that can be automated with robots to get better data and keep workers safe.
May 2023 - 02 Jun 2023
London
UK
ICRA 2023
We are excited to participate at the International Conference on Robotics and Automation, the largest event on the topic in 2023. Meet ANYbotics engineers and ANYmal at our booth and watch our presentation.