Industries
ANYmal C redefines how machines are able to support industrial operations. ANYmal C moves and operates autonomously in challenging environments and performs routine inspections with super-human capabilities.
Robotic Inspection
ANYmal C expands industrial operations and cloud-based solutions with the safety, reliability, accuracy, and endurance of a robot. ANYmal C autonomously delivers frequent data by monitoring equipment and environment and acts on demand to take additional measurements. By connecting the physical and digital world with a robot, predictive maintenance can be performed at a unprecedented quality level.
ANYmal C executes pre-defined missions by carrying a range of sensors to collect and interpret physical properties of equipment and environment.
Reading instruments
A broad range of analogue instruments and indicators can be digitized with help of computer vision and learning based algorithms. Once trained on a type of instrument, the value or state is reliably identified and protocoled. If no image analysis is possible, a photo is saved for manual interpretation.
Monitoring environment
Industrial plants require continous bookkeeping of structural changes. ANYmal supports operations by monitoring environmental changes and ensuring the compliance with safety regulations.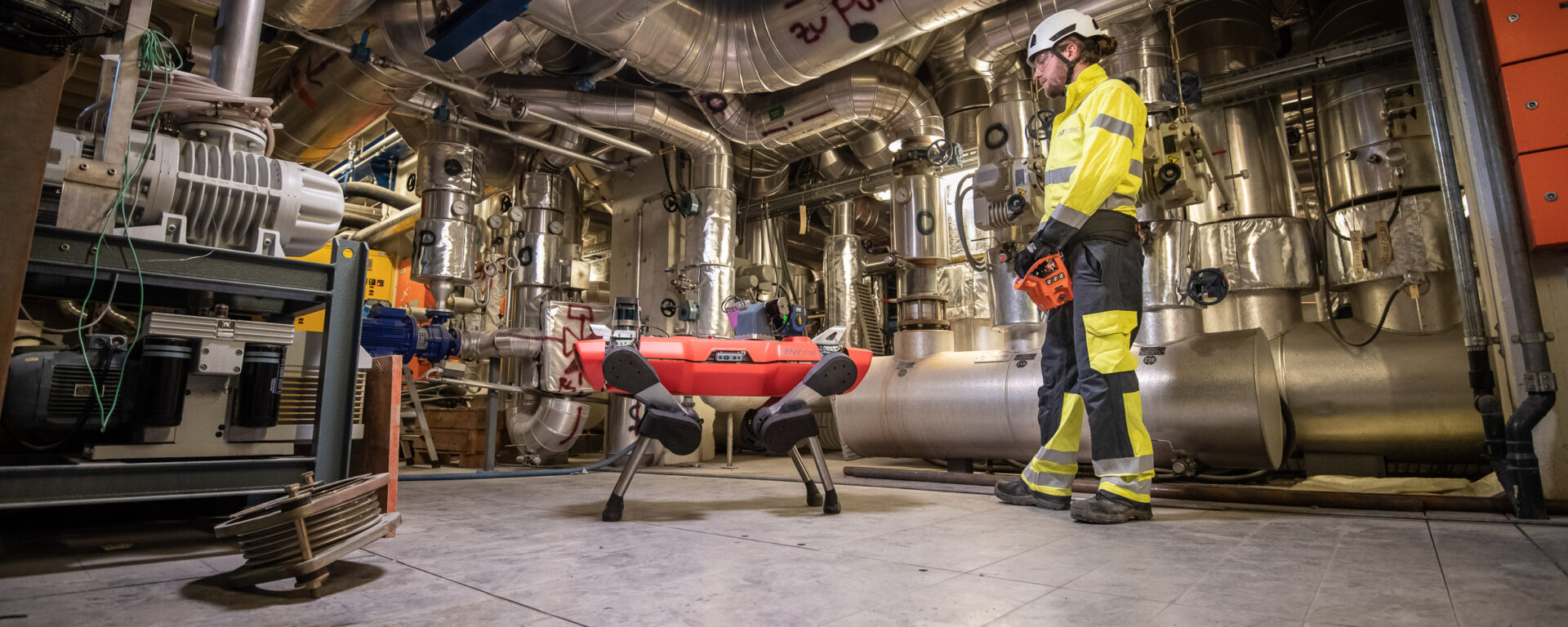 Autonomous vs. teleoperated
Teleoperated
The operator sends velocity commands to ANYmal C, feedback is provided via video-feed and 3d environment reconstruction. Requires a high-bandwidth and low-delay communication.
Supervised
The operator selects a target location to command ANYmal C to navigate while avoiding obstacles. Works even with a low-bandwidth and high-delay communication.
Autonomous
System operates fully autonomously on a pre-defined set of tasks. No data connection is required but feedback can be provided to the operator.
Events
See ANYmal in action at the following events:
Green Steel World Expo & Conference
For the first time at Green Steel Conference, we are excited to present innovative solutions to the steel industry. Meet us in Essen and get to experience our inspection robot ANYmal in action.
Apr 2023
3 pm UTC+1 (Berlin) time
Online Webinar
Webinar: Automating Inspection
Regular inspection enables predictive maintenance and in this webinar, you learn about the jobs that can be automated with robots to get better data and keep workers safe.
May 2023 - 02 Jun 2023
London
UK
ICRA 2023
We are excited to participate at the International Conference on Robotics and Automation, the largest event on the topic in 2023. Meet ANYbotics engineers and ANYmal at our booth and watch our presentation.