Install ANYmal
in

one day
Automate inspection tasks by setting up your
robot without changing your facilities.
Drag & drop your inspection tasks
Plan and manage inspection missions by telling the robot where to go and what to do. Once ready, ANYmal will find the quickest route to perform its mission and will provide you real-time information on the status of each task.
Deploy your robot in no time
Prepare your missions by importing existing CAD/BIM facility models or create a 3d map with the robot on the fly. Need help? ANYbotics experts will support you throughout the deployment.
Virtual setup with CAD/BIM models
Import your existing CAD models and perform realistic simulations of your inspection missions and software integration before the robot arrives at your facility. With the simulation you can test missions, mobility at key locations, data integration and save installation time on-site.
On-site setup at your industrial facilities
Guide the robot through your facilities and capture your inspection points to plan a mission on-site. The robot will remember the tasks and autonomously repeat the inspection routines.
Industry-leading autonomous data collection
Offline autonomy
ANYmal collects and stores inspection data autonomously even if no Wi-Fi or 4G/LTE is available. Once a network is available, the robot will stream the information and progress to your systems.
Autonomous battery recharging
ANYmal ensures all inspection tasks and missions are completed. When running out of charge, it will autonomously go to the nearest docking station to recharge. In 3 hours the battery is full again and ANYmal is ready to continue its shift.
AI-based mobility to reach the inaccessible
ANYmal's mobility is powered by our custom AI, Trekker, to navigate complex plants with ease. It enables the robot to reach places at an unprecedented reliability with no need for modification of the facility. Let ANYmal climb industrial stairs, overcome steps, and crawl underneath obstacles with the magic of AI.
Learn More
Safely shares workspaces with your team
ANYmal continuously checks for people and objects in its surroundings to avoid collisions. It will even move around dynamic obstacles, wait for the path to clear, or find an alternative route to reach its destination.
Automatic object recognition for high-quality data
It is able to recognize nearly any object and to extract its information with its machine learning algorithm. In case the object is moved to a different angle, the robot can be programmed to take a new position to capture the data accurately, eliminating the need for costly sensors.
Full control of inspection missions
Observe the progress of ANYmal's inspection routine on a remote computer. The user interface enables you to see the robot's location, the current and past captured data, the mission progress, and more. At any time, you can interrupt the mission, live stream camera data, control the robot's movement, and take additional measurements for more insights.
Seamless data integration for automated reporting
While performing its inspection mission, ANYmal reads inspection objects, surveys the environment for anomalies, and records results. The robot then organizes and encrypts the data to be transferred to your system.
ANYmal
Autonomously collects inspection data about your facility.
Data Sync Server
ANYmal syncs data, storing inspection results securely on-premise or in your cloud.
ANYmal API
Integrate inspection results with the plant's systems to enable real-time monitoring, predictive maintenance, and other data-driven analyses.
User PC
Monitor autonomous missions, teleoperate ANYmal, and generate reports.
Inspection Report
Export inspection reports to review data manually and make visual comparisons.
→ Learn More
Effective inspection reports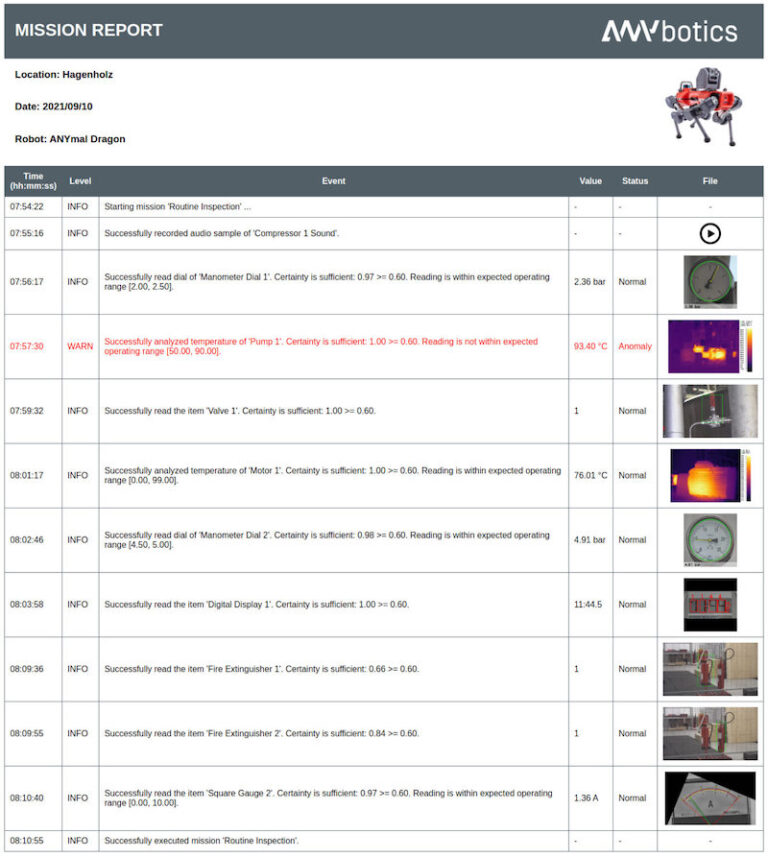 Directly access PDF and XML inspection reports with actionable information:
Plan and manage your robots from a single system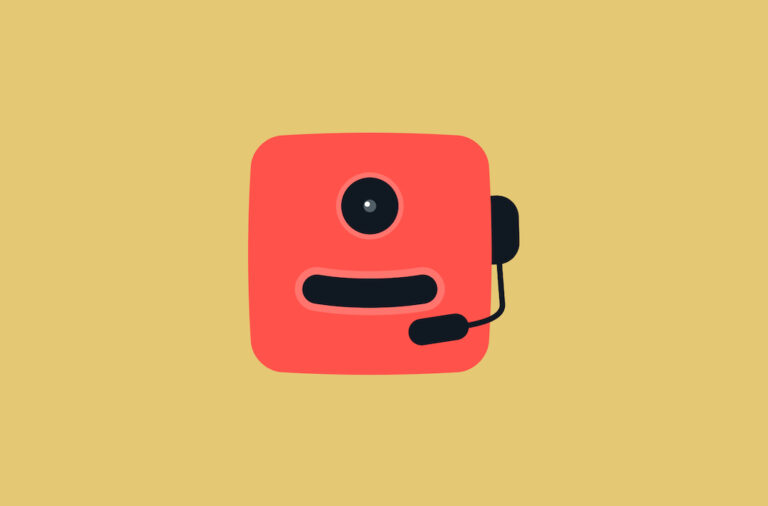 ANYbotics provides a turnkey robotic inspection solution and supports customers with custom payloads, training, on-site installation, and API integration. Let's start?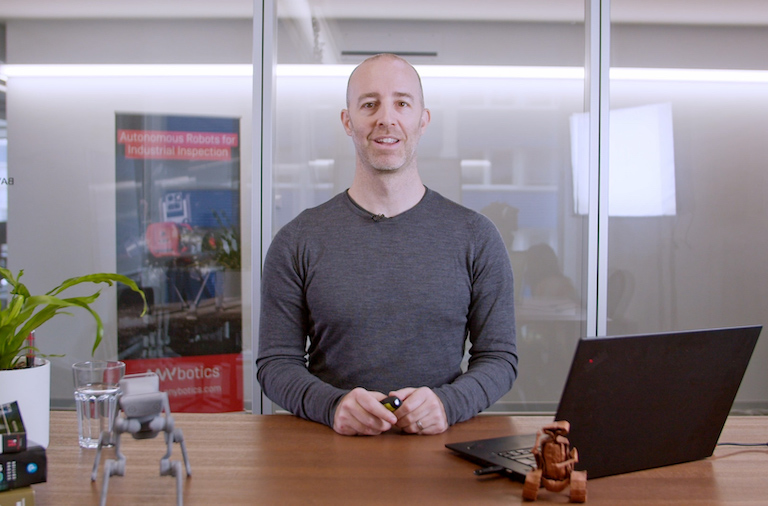 Join us in this practical webinar where we will guide you through the major elements of robotic mission setup and execution. We provide a practical look into ANYmal's latest software capabilities to enable safe and effective robotic inspection missions.
Subscribe to stay informed
We will send you our latest news every couple of months and you can unsubscribe at any time.